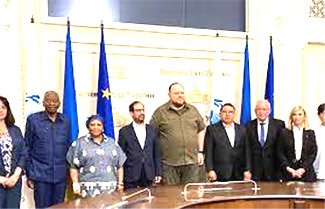 Geneva, 12 July 2022, for immediate release
On the invitation of the Ukrainian and Russian Parliaments, the IPU Task Force for the peaceful resolution of the war in Ukraine is visiting Kyiv and Moscow during the week of 11 July. The IPU delegation is led by the President of the Task Force, Dr. Ali Rashid Al Nuaimi, IPU Vice-President and Member of the Federal National Council of the United Arab Emirates. Participating Task Force members also include Speakers of Parliament from Namibia, South Africa and Uruguay, as well as prominent MPs from Indonesia, Israel and Kazakhstan – https://www.ipu.org/news/news-in-brief/2022-06/ipu-sets-up-task-force-ukraine
The visit, which also includes a courtesy call on the Speaker of the Polish Senate in Warsaw, will explore possible parliamentary solutions to contribute to an end to the war in Ukraine. This initiative at the global parliamentary level aims to complement ongoing diplomatic efforts at the governmental and UN level. It is also in line with the IPU's ongoing efforts to help build inclusive and accountable parliaments, where all segments of society have a voice, legislative frameworks are put in place whereby the rights of all citizens are guaranteed, and effective oversight is exercised of governmental action – including in terms of the strict observance of international law and global commitments.
The Task Force will use its good offices to encourage dialogue with and between parliamentarians in Ukraine and the Russian Federation. Its objectives, strongly supported by the full IPU membership, are to help achieve a complete cease-fire and to contribute to confidence-building measures that may achieve a long-term cessation of hostilities and the organization of humanitarian assistance. In the longer term, the Task Force will seek to help the parliaments of Ukraine and Russia, both IPU Members, to reestablish a peaceful and sustainable relationship.
Underpinning the work of the Task Force is the commitment of all IPU Members to uphold the rules-based international system with the United Nations at its core, a commitment to international law, and the fundamental principles enshrined in the UN Charter.