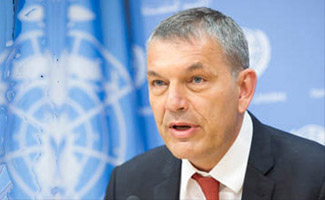 International community shows strong support to UNRWA at annual pledging conference
At the Pledging Conference held at the United Nations General Assembly in New York in June, the international community demonstrated its firm commitment to Palestine refugees and UNRWA.  Member states collectively confirmed US$ 160 million in pledges to support the health, education, social protection and other essential services that UNRWA delivers in the West Bank, including East Jerusalem, Gaza, Syria, Lebanon and Jordan, thus providing additional political and financial backing. The funds also cover some emergency response programmes, namely food and cash assistance in the occupied Palestinian territory and Syria. Whilst the funding gap narrows, UNRWA expects a shortfall of over US$ 100 million on its core budget. The Agency will continue its immense efforts to mobilize the funds it needs to keep essential services running until the end of the year.
Addressing Member State representatives, UN Secretary-General Antonio Guterres said: "Investing in UNRWA means investing in stability for the region. It means investing in the future through education of children and youth, girls and boys, young women and men. And it means honouring the commitment of the international community to Palestine refugees and their rights until a just and durable political solution is found." 
In his opening remarks, UNRWA Commissioner General Phillip Lazzarini said: "UNRWA financial challenges are not happening in a vacuum. Shifting geopolitical priorities and regional dynamics, and the emergence of new humanitarian crises, have deprioritised the Israeli-Palestinian conflict." At a press briefing the following day, the Commissioner-General warned that UNRWA might not be able to pay salaries for its employees after September. Lazzarini reiterated that more than US$ 100 million shortfall in funding for 2022 is almost the same shortfall that UNRWA has faced every year for the past decade.