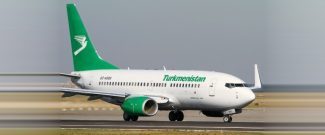 The next group of citizens of Turkmenistan has been evacuated
On 14 March 2022, the Boeing 777-200LR of Turkmenistan Airlines operated a Warsaw-Turkmenbashi charter flight, which safely delivered citizens of Turkmenistan to their homeland, who fled from Ukraine to Poland and to neighboring countries due to the ongoing tensions in Ukraine.
In particular, as a result of the coordinated work of the diplomatic missions, 251 citizens of Turkmenistan, who arrived on the special flight TUA-3271, were warmly welcomed at Turkmenbashi International Airport.
All costs related to arrival of citizens in Turkmenistan have been carried out at the expense of the Government of Turkmenistan and all the necessary conditions have been established for their return to the Country comfortably and safely.
In accordance with the recommendations of the World Health Organization (WHO), all citizens, who have arrived on a charter flight from Poland will undergo quarantine procedures.
Turkmenistan, which prioritizes its population, has once again proved in practice that the slogan "The state is for the people".
As it is known, on 10 March 2022, 282 citizens of Turkmenistan were brought from Romania to Turkmenabat by special flight T5 3286 of Turkmenistan Airlines