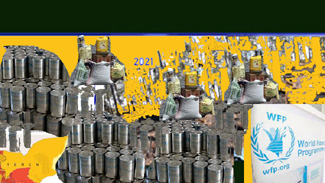 Funding shortfall forces UN to cut food aid to Yemen
The World Food Programme (WFP) has been forced to reduce food aid to Yemen due to a shortfall of funds. From January, 8 million people in Yemen will receive a reduced ration.
Annegret Mathari, Geneva
Geneva (22 December 2021) The WFP is running out of funds to continue to provide food assistance to 13 million people in Yemen, said the UN agency in a statement on Wednesday. It will reduce food rations for 8 million people from January – families will receive barely half of WFP's daily minimum ration. Five million people at immediate risk of slipping into famine conditions will remain on a full ration.
"The reductions come at the worst possible time for families in Yemen who are dependent of WFP's food assistance to survive", said the WFP. Food prices have more than doubled this year. Meanwhile, fighting across multiple frontlines continues to force families to flee. The rebel Houthi movement took control of the capital Sanaa in 2014 as the government fled, prompting a Saudi Arabia-led coalition to intervene 2015 in support of the government. Yemen has been devastated by the ongoing war.
Warning of further cuts
Without new funding more severe reductions will soon be unavoidable, warned the WFP. This could see people cut from food assistance programmes completely. Malnutrition treatment and school feeding for children may also be reduced.
"Every time we reduce the amount of food, we know, that more people who are already hungry and food insecure will join the ranks of millions who are starving," said Corinne Fleischer, WFP Regional Director for middle East and North Africa. "We have to stretch our limited resources and prioritize, focusing on people who are in the most critical state."
Over half of the population of Yemen or 16.2 million people face acute hunger, according to WFP. Half the children under five (2.3 million) are at risk of malnutrition. WFP needs $813 million to continue to assist the most vulnerable in Yemen through May. In 2022, WFP needs $1.97 billion to continue to deliver food assistance to families on the brink of famine.