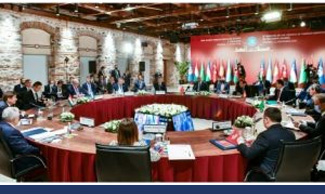 THE DELEGATION OF TURKMENISTAN TOOK PART IN THE VIII MEETING OF THE COUNCIL OF FOREIGN MINISTERS OF THE COOPERATION COUNCIL OF TURKIC SPEAKING STATES
On November 11, 2021, Minister of Foreign Affairs of Turkmenistan Rashid Meredov took part in the eighth meeting of the Council of Foreign Ministers of the Cooperation Council of Turkic Speaking States in Istanbul, Republic of Turkey.
The agenda of the current multilateral forum is very rich. The important issues of the upcoming summit of the Heads of State at the highest level were discussed, as well as the development of multilateral dialogue using the huge potential of the association of Turkic Speaking States.
In his welcoming remarks, R.Meredov, expressing gratitude to the heads of foreign ministries of the Council's member states, emphasized the importance of supporting Turkmenistan's initiative to become an observer state in the Turkic Council.
The minister said that Turkmenistan, proceeding from the principles of its neutral status, considers the consolidation of efforts of countries in maintaining and strengthening international peace, global security and stability as a priority direction of its participation in the Council.
The Turkmen side also expressed the expediency of intensifying cooperation of the Turkic Council with major reputable international organizations, especially the United Nations, and developing joint multilateral documents aimed at comprehensive strengthening of fruitful partnership.
In this regard, close collaboration in the economy, industry, energy, transport and the ecology is highlighted as one of the strategic tasks in effectively implementing the consolidated potential of the association of Turkic Speaking States.
In addition, it was proposed to expand the range of programs and projects carried out within the framework of the International Organization of Turkic Culture (TURKSOY).
The significance of intensifying humanitarian cooperation was particularly emphasized. Cultural ties and communication of representatives of academia and the arts, student communities and athletes should play a special role on this agenda, the head of the Foreign Ministry of Turkmenistan added.
Also, within the framework of the visit a bilateral meeting of the Minister of Foreign Affairs of Turkmenistan Rashid Meredov with the Minister of Foreign Affairs of the Republic of Turkey Mevlut Cavusoglu.
During the talk, the priority directions of bilateral collaboration were discussed, as well as key aspects of international agenda were considered.