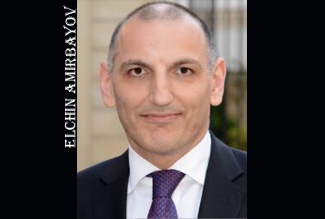 Interview with Ambassador Elchin Amirbayov, Assistant to the First Vice-President of Azerbaijan on foreign policy
Q: You have a long outstanding career in diplomacy, and now you are the Assistant to the First Vice-President of Azerbaijan on foreign policy. What are the foreign policy priorities of your country?
As they say, foreign policy is the continuation of domestic politics by other means, and therefore it should be guided by national interests. And the first and foremost priority for Azerbaijan from this standpoint is the restoration of its territorial integrity and sovereignty over the whole territory within its internationally recognized borders. To achieve this goal we need to resolve the ongoing Nagorno Karabakh conflict through eliminating the consequences of armed aggression of the Republic of Armenia against Azerbaijan. In other words, legitimate control by Azerbaijan over its Nagorno Karabakh region and 7 adjacent districts must be restored. As you are well aware, almost twenty percent of the sovereign territory of Azerbaijan has been under illegal Armenian military occupation since 1993. As a result of this more than 1 million of Azerbaijanis are either refugees or internally displaced persons. Ethnic cleansing of Azerbaijani population was carried out by Armenia not only in Nagorno Karabakh and surrounding 7 regions of Azerbaijan but also in Armenia itself, where more than 250 000 Azerbaijanis had been forcefully evicted from their homes. So, to address this major challenge is not only a foreign policy objective but also our number one national security priority as well as our sacred duty.
Realizing that this tragic conflict and illegal foreign occupation shall soon be over, Azerbaijan has invested lately a lot of efforts and energy into strengthening its statehood and developing its economy.
Through robust international economic cooperation Azerbaijan has obtained best possible conditions for exploitation of its vast and versatile hydrocarbon resources thus putting itself on the global geopolitical map as an important stakeholder and a reliable strategic partner both for the West and for the East. As a result of farsighted, independent and balanced state policies, Azerbaijan's reputation as an important international player has surged, with its economy registering an unprecedented growth – our GDP tripled in the last 20 years.
During these years of restored independence (first, short-lived independent Democratic Republic of Azerbaijan lasted from 1918 to 1920) we initiated and successfully implemented huge multinational projects of global scale and strategic significance. Baku-Tbilisi-Ceyhan major export oil pipeline, Baku-Tbilisi-Erzurum gas pipeline, Southern Gas Corridor, and development of the Eurasian transport corridor, of which Baku-Tbilisi-Kars railroad is a part, are the most vivid examples of our visionary approach that earned Azerbaijan an image of a crucial regional stakeholder that connects East with West, North with South and is accepted by all as a natural platform for all sorts of constructive engagement and effective interaction, including intercultural and inter-religious dialog.
Talking about international connectivity in the conditions of growingly interdependent world, I would like to specifically mention the Southern Gas Corridor project that will very soon be inaugurated (it's last segment, the Trans-Adriatic Pipeline-TAP is almost over and should be commissioned before the end of this year).
This project will not only strengthen our economy but will also serve as Azerbaijan's major and well appreciated contribution to European energy security with an ambition to diversify the sources of natural gas for Europe and lessen the over dependence of quite a few European nations from the single source of natural gas. Thus, further deepening of our strategic partnership with Europe and other regions of the world in the fields of energy and connectivity will continue to be one of our major foreign policy priorities.
On the other hand, we will continue with our efforts to modernize and diversify our economy through attracting foreign direct investment in such important fields of our economy as agriculture, tourism, information technologies, green economy, etc.
Azerbaijan today is a stable, modern and democratic nation that is proud to have been able to strengthen its restored independence since 1991. Further consolidation of our democratic credentials and strengthening of human rights protection in Azerbaijan remain among top priorities of our government.
Being a secular nation with multiethnic and multi-faith population, Azerbaijan continues to be a well-recognized island of stability, mutual respect and religious tolerance where happy and harmonious coexistence of all of its citizens is not just a slogan but a sheer way of life. Proud of its historic mission to contribute on a global scale to promoting multiculturalism and intercultural dialogue, Azerbaijan regularly hosts political, religious and cultural leaders from around the world through such important platforms for dialog as the World Summit of Religious Leaders, Global Forum of the UN Alliance of Civilizations, biannual Baku International Humanitarian Forum and regular World Forums on Intercultural Dialogue also known as the Baku Process that was brought to daylight by our country in close cooperation with such important international players as Council of Europe, UNESCO, UN Alliance of Civilizations, ISESCO back in 2006.
Cherishing its sovereignty and independence, Azerbaijan is not aspiring to join any military-political block or security alliance and will try to continue to perform its fine balancing act in a geopolitically uneasy neighborhood. It is in recognition of its growing international role and reputation as a reliable, independent and impartial partner that Azerbaijan was overwhelmingly elected to serve as a non-permanent member of the UN Security Council back in 2011 and was unanimously chosen in 2018 to preside over the Non-Alignment Movement, the second biggest international organization after United Nations.
Q: Looking back on history, Azerbaijan first got its independence just after the Russian Revolution, and had a short period of independence. It seems to me that in those days there was no conflict with neighboring Armenia. So why did the conflict start after the Soviet Union broke down? Does it have its roots in the days before your independence?
To respond to this question we need to dwell upon the territorial claims of neighboring Armenia to Azerbaijan as the root cause of this tragic conflict. Present-day Armenia is a small country in the South Caucasus with a population of less than 2 million. Armenians, referring themselves to a very remote history, have always nurtured an illusionary dream of creating a mythic "Greater Armenia", from Black to Caspian Sea. And in order to attain this grotesque goal they would resort in the course of relatively recent history to anything from terror to crimes against humanity to setting unfounded territorial claims to its neighbors. But it should be underlined that the present-day Armenia, which makes the smallest part of the South Caucasus, has been created on the historical Azerbaijani lands (one fact: capital of Armenia Yerevan's population in early 20-th century was 70 percent Azerbaijani) and has nothing to do with ancient Armenian state that existed far away from our region. Nevertheless, in order to mobilize Armenian nation to achieve the goal, they deliberately developed among themselves the image of an enemy with regard to Turks and Azerbaijanis, and this was done throughout generations and covered the whole 20th century.
Blood count started from mass massacres of Turks and Azerbaijanis since the end of 19th century. The grim example of this were brutal massacres against Azerbaijanis in March 1918 even before the establishment of the first Azerbaijani Republic in May 1918. 20,000 innocent Azerbaijani civilians were killed in those days and these massacres were inspired by the nationalistic Dashnaktsutiun Party (established in 1890) which utilized terror as a necessary means of struggle against perceived enemies and a way to consolidate the Armenian ethnicity into a mono-ethnic nation with statehood.
Soon after the Russian revolution of 1917 both Azerbaijan and Armenia became part of the Soviet Union, with Nagorno Karabakh, naturally, retained as an integral part of Azerbaijan like it had been the case throughout the centuries. In spite of a constant broad campaign of disinformation and illusionary wishful thinking, carried out by Armenia and Armenian lobby throughout the world, Karabakh being a historical Azerbaijani province and part of Azerbaijani statehood has never been associated with Armenia and has always been part of Azerbaijani collective national identity.
Even the mere name of Karabakh (Qarabağ, in Azerbaijani transliteration) is translated from Azerbaijani language as a "black garden". In the meantime, Azerbaijanis who had been indigenous, autochtonous population in the territory of present-day Republic of Armenia had been ethnically cleansed from their homeland throughout the twentieth century, namely during pogroms and eviction campaigns in 1905-06, 1918-1920, 1948-1953 and in late 1980s.
During a rather short and disastrous rule of the "father of perestroika" Mikhail Gorbachev in late 1980s, Armenians, both in the country and the diaspora, started to prepare ground for secession of Nagorno Karabakh Autonomus Oblast (NKAO) from Azerbaijan. They staged the first rallies in Nagorno Karabakh in 1988 and it was at that time that the first Azerbaijanis were brutally killed therein in the town of Agdam with the criminal appeasement by Soviet leadership of the aggressor. The process of disintegration of the Soviet Empire led to weakened state structures and loss of control from Moscow over the peripheries and all this had further exacerbated the situation. Armed groups and terrorists appeared in Nagorno-Karabakh. Mostly sent from Armenia and financed also by radical representatives of the Armenian diaspora in Europe, Russia and the United States, these groups were engaged in illegal and criminal activities against Azerbaijan. By late 1989 the whole Azerbaijani population was driven out of Armenia.
After the collapse of the Soviet Union, Azerbaijan regained its independence with Nagorno Karabakh as an inseparable part of its internationally recognized territory. Armenia continued to openly lay territorial claims to Azerbaijan over NK and eventually started the undeclared war against Azerbaijan. Consequently, the conflict entered a new "hot phase" in which local Armenian authorities in Nagorno Karabakh, supported militarily and financially by Armenia, spearheaded the brutal campaign of ethnic cleansing of Azerbaijani population of the territory that made up at that time 25 percent of its entire population.
In February 1992 Armenia committed the most terrible and heinous crime against the Azerbaijani population of Nagorno Karabakh. On the night from 26 to 27 February an act of genocide of Azerbaijanis was carried out by Armenian armed forces when during just one night 613 innocent people including women, elderly and children were slaughtered only because they were Azerbaijanis. Two Armenian field commanders who later on became presidents of Armenia, Robert Kocharian and Serge Sargsyan, were in charge of this inhumane extermination, and one of them had subsequently proudly admitted having committed this nefarious war crime.
I am confident that these two war criminals will be sooner than later brought to justice and held responsible for this outrageous crime against humanity.
Q: During and after the conflict with Armenia in the 1990s, you were faced with a huge number of internally displaced persons. Can you describe what happened to those persons, and did they ever get any compensation from the occupying power?
Well, the only «compensation» that they received from the occupying power was the fact that they escaped the tragic fate of their compatriots from Khojaly and were not mercilessly annihilated.. Unfortunately, the issue of Azerbaijani refugees and internally displaced persons has been underreported in international media. We think this happened because Azerbaijan was faced with a notorious double standard approach.
As I mentioned earlier, as a result of the Armenia-Azerbaijan conflict, more than 250,000 Azerbaijani refugees were driven out from Armenia in late 1980s and some 800,0000 Azerbaijan were internally displaced from the occupied territories within Azerbaijan.
In early-mid 1990s the existence of more than a million refugees and IDPs was a heavy burden for a nascent Azerbaijani statehood and created a real humanitarian crisis that UNHCR and other relevant UN agencies and international donor organizations had tried hard to address.
Later on, Azerbaijani state had to take over from them due to the fact that as a result of successful implementation of its energy strategy Azerbaijan recorded unprecedented growth rates, allowing it to spend hundreds of millions of dollars to improve the conditions in which the refugees and IDPs in Azerbaijan lived.
In 2008 Azerbaijan abolished the last temporary refugee camp and today the absolute majority of those forcefully displaced people have moved into newly-built residential areas in various parts of the country. But their strongest desire and hope is to be able to go back to their own homes as soon as possible because no palace can replace them the place where they were born and where their parents and grandparents are buried. Significant part of this displaced population will be soon able to realize their dream to return to their homes, as a result of liberation by glorious Azerbaijani army of certain parts of the occupied territories from illegal foreign occupation.
Q: For many years, there has been a kind of status quo in the region, and it seems like you were having negotiations with a view to settling the dispute. Why did those break down?
The status quo that was in place till 27 September 2020, has been holding for more than quarter of a century, ever since the Russia-brokered ceasefire agreement was reached by Armenia and Azerbaijan on 12 May of 1994. This has been a status-quo formed as a result of illegal foreign occupation, ethnic cleansing and numerous violations of international humanitarian law, like for example, illegal settlement policies carried by the occupying power Armenia in the occupied territories of Azerbaijan. Therefore, this status-quo was illegal, illegitimate and therefore very fragile and unsustainable.
The Minsk Group of the OSCE co-chaired by US, Russia and France, was tasked back in 1992 with mediation mandate to change this status-quo and help parties to reach an agreement that would eliminate all the consequences of Armenia's armed aggression against Azerbaijan.
Unfortunately, due to Armenia's destructive attitude, throughout all these years the mediators have failed to bring about any tangible results of their activities and eventually the mediation has been downgraded to mitigation and the conflict resolution has been replaced by conflict management.
In other words, preservation of the ceasefire regime has become the priority, if not the only concern of the international mediation and this somehow coincided with the strategic goal of Armenia – to consolidate even more existing status-quo and to move off as far as possible the prospect of meaningful, result-oriented negotiations under the aegis of the OSCE Minsk Group. It was clear to all that Armenia intended to keep control over our territories forever. All this happened against the background of repeatedly stated position by US, Russia and France presidents on the inadmissibility of the continuation of the status-quo.
However, Azerbaijan has always stood and continues to remain fully committed to a peaceful solution of this tragic conflict, on the basis of respect for norms and principles of international law, and in strict compliance with the letter and spirit of Resolutions 822,853,874 and 884 of the United Nations Security Council adopted in 1993, all of which demand immediate, complete and unconditional withdrawal of Armenian occupying forces from the Azerbaijani territories and recognize the region of Nagorno Karabakh as part of the Republic of Azerbaijan.
Unfortunately, because of Armenia's destructive position, these fundamental documents that gave birth to the OSCE mediation and its Minsk Group, still remain unimplemented.
Main reason why this conflict lasted so long was total impunity that Armenia enjoyed while ignoring international law and challenging the peace process, due to the lack of adequate reaction on the part of mediators and broader international community. Impunity, as they say, is the largest inducement to continue to do wrong and it developed Armenia's sense of permissiveness and confidence that it can easily get away with illegal foreign occupation and ethnic cleansing committed against Azerbaijanis.
When current Armenian Prime minister Nikol Pashinyan came to power as a result of street revolt in 2018, we in Azerbaijan hoped that things might change for better in the peace process and trusted his promises to facilitate the peaceful resolution. Unfortunately, he failed to keep his promise and the opposite happened. Things became much more tense and dangerous during his tenure because for the last year and a half Pashinian torpedoed every overture to resume substantial negotiations, rejected out of hand all previous proposals and ideas of the mediators and instead initiated a long list of provocations that were meant to destabilize Azerbaijan and to provoke it to retaliate and spark off another flare-up that would make any prospect for negotiated settlement even more remote.
These provocations, both in rhetoric and actions, demonstrated the real intention of the Armenian leadership – to continue illegal occupation of Azerbaijani lands and even try to conquer new territories with no genuine will to hold substantive talks to end the conflict.
There might be additional factors which conditioned the timing of the escalation, for example, efforts to tarnish Azerbaijan's economic successes and damage its international energy and transportation projects and prevent further foreign investments in the country. One of the reasons why Armenia chose the Tovuz segment of Armenian-Azerbaijani border for its military aggression back in July was to target critical energy and transport infrastructure of Azerbaijan transporting oil, gas and other goods from Baku to Europe, passing through this north-western region of Azerbaijan.
Q: From what I have understood, your country has tried many times to relaunch the peace process, and you even organized meetings between the two presidents here in Geneva. What do you see as the main obstacle for bringing Armenia back to the negotiating table?
As I said, Armenia's main intention had been to preserve the status-quo of illegal occupation of Azerbaijani lands. They have always avoided substantive negotiations because they knew that sooner or later they would be forced to agree to evacuate the occupied Azerbaijani territories from their military presence, as was envisaged by the proposals of the mediators.
Current Armenian leaders rejected all the proposals of the OSCE Minsk Group Co-Chairs, including the so-called "basic principles". That rejection has completely derailed the peace process. And when Azerbaijan was again attacked by Armenian armed forces on 27 September, the decision was taken by Baku to launch a counter-offensive that would dissuade Armenia from pursuing further the military option and would force it to peace. This peace-enforcement operation by Azerbaijan has shattered many myths, including the one on invincibility of Armenian army.
Glorious and highly-motivated Azerbaijani army has been already successful in liberating a significant part of our sovereign territory that had been under foreign occupation for almost thirty years.
We do hope that Armenia would finally realize that the only sustainable solution to the conflict may be achieved through constructive negotiations, on the basis of strict compliance with norms and principles of international law, first of all, on the basis of respect for territorial integrity of states and inviolability of their internationally recognized borders.
Unfortunately, the gross violation by Armenia of both agreements on humanitarian truce brokered by Russian and later by France, on 11 and 17 October shows that their behavior is still guided by illusions, which under the circumstances could be a very dangerous thing.
Q: Psychologists often say that finding a common enemy can serve to unite a people/nation. Do you think that the strategy of the Armenian government was to start this war just to make their people forget their own problems?
I would tend to agree with you that one of the reasons for the latest attack of Armenia was, as they say, "to rally the nation round the flag" and invite the people to concentrate on the "common enemy" in order to divert the attention of the Armenian public from the deplorable internal situation in the country, both from political and socio-economic point of view.
Dire economic situation in Armenia, which due to its irrational policies has two out four of its borders closed, has been even further aggravated by the dreadful management of the covid-19 pandemic.
Economic crisis was hardened by a demographic one, since many Armenians leave the country seeing no future for them therein. Political opposition has been silenced by "democrat" Pashinian when one of his predecessors Robert Kocharyan was thrown in prison and the other one, Serge Sargsyan, was placed under house arrest, unable to leave the country until his investigation is over. So, in this situation of internal collapse, Pashinyan opted for another military adventure against Azerbaijan hoping that this well give certain boost to his swiftly dwindling popularity.
Q: Some people would say that this is a religious war, and the main issue is religion – Christians versus Muslims. What do you reply to this claim?
This is indeed a good question.
On the one hand, as I explained before, the root cause for this conflict has always been territorial claims of Armenia to a part of Azerbaijan's sovereign territory recognized as such by the whole world.
On the other hand, Armenia realizes that a conventional way of addressing this problem with the involvement of broad international community would put it in a weak spot because in accordance with international law Nagorno Karabakh is an integral part of Azerbaijan. And four abovementioned resolutions of the UN Security Council reconfirm that premise.
So, in order to gain some sympathy to its cause, especially in the Western world, Armenia has been deliberately using lately the "religious card" to present its conflict with Azerbaijan from a completely different, civilizational perspective.
But all those who have a slightest idea about the nature of the Armenian-Azerbaijani stand-off and know something about the regional geopolitics and history, would agree with me that this stunt by Armenia is erroneous, irrelevant, misleading and even dangerous.
Unfortunately, this primitive and easy-to-sell qualification of the conflict is one of the most favorite yet false clichés used by Western media to define the nature of the conflict between Armenia and Azerbaijan.
One has to realize that while the absolute majority of Azerbaijan's population are Muslims, it is probably one of the most secular nations not only in the Muslim world but well beyond it.
Just one example to support this statement. In 2016, during his official visit to Azerbaijan, the head of the Roman Catholic Church, His Holiness Pope Francis to Azerbaijan, voiced the Vatican's appreciation of the high level of religious tolerance in Azerbaijan and called it an excellent example for others. He was really impressed and praised Azerbaijan for the excellent harmony and mutual respect that so happily exist between Catholic, Muslim, Orthodox and Jewish communities in the country.
Moreover, despite the ongoing conflict, around 30 000 ethnic Armenians continue to live in Baku, Ganja and other places of our country as proud citizens of Azerbaijan. They fully enjoy all rights prescribed by our Constitution and the same awaits after de-occupation all the other Azerbaijani citizens of Armenian ethnic origin who are presently living in the occupied Nagorno Karabakh region of Azerbaijan.
We strongly believe that peaceful and harmonious coexistence of Azerbaijanis and Armenians in Nagorno Karabakh will be possible and we are ready to do our best to achieve that goal.
Q: During the summer, there were many acts of provocation, from what I have read. Each time you stayed calm and chose not to take any action. Could you describe some of these events and what was behind them, from both your own side and from the Armenian side?
Well, there has been quite a long list of those, I am afraid. But I believe it is important to go through some of them in order to understand that the treacherous attack by Armenia against Azerbaijan on 27 September was a well thought out pre-planned act aimed at entirely undermining the already almost non-existent peace process. Exactly one year ago, Armenian Prime Minister at a rally in the occupied areas of Azerbaijan made a statement that "Karabakh is Armenia full stop".
That statement actually was the first serious blow to the negotiation process. One may ask a question: if one party to the conflict already decided everything what kind of peace process can we talk about?
Among other provocations registered earlier this year I would mention the adoption of a new and more aggressive national security policy by Armenia just a couple days before the July attack against Azerbaijan, that introduced the notion of preventive strikes against the enemy and identified Armenia as a guarantor of security of Nagorno Karabakh; statements of Armenian Defense Minister on the need for his country to wage "new war for new territories" in order not to be forced to evacuate the 7 regions around NK; holding of "inauguration ceremony" of the "newly elected president" of the self-styled republic of Nagorno Karabakh in the ancient Azerbaijani town of Shusha, populated before occupation in May 1992 almost entirely by Azerbaijanis.
This town, because of its special place in Azerbaijan's history, is extremely dear to every Azerbaijani and is part of our national identity. So, Armenian leadership announced plans to transfer the so-called parliament in Nagorno Karabakh from Khankendi (Stenaparket), to Shusha.
Next in my list comes intensification lately of the illegal settlement of ethnic Armenians from the Middle East and other regions of the world in the occupied territories, in gross violation of International humanitarian law (IHL), namely of the four Geneva Conventions of 1949.
In addition, they carried out three armed attacks on our territories in July, August and September this year.
As I mentioned above, on 12 July 2020 Azerbaijani border district of Tovuz, located 200 km away from the Karabakh, came under fire from the territory of Armenia. This was done to provoke Azerbaijan to retaliate and hit the territory of Armenia so that Yerevan could immediately appeal for intervention of Russia and other allies of Armenia within the framework of the CSTO (Collective Security Treaty Organization) on the side of Armenia. Azerbaijan rebuffed the attack with due proportion and chose not to advance inside the Armenian territory since we have never had any military targets or objectives in the territory of Armenia. All these provocations were enriched by increased transfers of weapons and other military equipment to Armenia from third countries right after the July border incident and throughout August 2020.
Military build-up, among other actions by Armenia, signaled about their preparation for another provocation, another large scale attack. We were ready for this and when it happened on 27 September we immediately launched a counter offensive.
Q: Since September 27, there has been a full-fledged war between Armenia and Azerbaijan. What exactly happened that day?
On 27 September, the Armenian armed forces attacked Azerbaijan frontline districts adjacent to NK from three directions – south, south-east and the north. This was the third biggest attack this year. As I said, we anticipated such an offensive given Armenia's embittered war rhetoric and provocations in the last few months. Azerbaijan, in its turn, launched a counter offensive in the course of which an important part of the occupied territory has been liberated by our army.
Unfortunately, Armenia, losing on the battlefield, in violation of international humanitarian law, started targeting civilian population and infrastructure on the frontline districts in order to create panic among our population and render the maximum possible loss of human life.
Even our big cities like Ganja (second biggest city of the country) and Mingechevir situated far away from the zone of conflict came under numerous cowardly night-time ballistic missile attacks from the territory of Armenia. As a result of these heinous war crimes of Armenian political and military leadership 63 Azerbaijani civilians were killed (including 10 children), 292 were wounded, some 1950 houses were fully destroyed.
By commanding this war crime Prime minister Pashinian has, unfortunately, joined the list of Kocharian and Sargsyan, his predecessors who committed the Khojaly genocide in 1992 and all of them shall one day be held responsible for their crimes against humanity.
Q: We hear that Turkey is sending you military personnel, and mercenaries. Is this true?
Let me tell you that this is purely fake news and part of the vast disinformation campaign impudently launched by Armenia in order to cover up its deployment of thousands of terrorists, mercenaries and foreign fighters from the Middle East, Europe and other regions to the occupied territories.
Unfortunately, no one from those who voiced these baseless allegations against Azerbaijan took the labor of presenting us at least one single evidence.
On the other hand, we have intelligence reports from several sources that PKK terrorists and Armenian nationals of some European and Middle East countries are engaged on the battlefield on the side of Armenia.
Q: What about United Nations peacekeepers — do you think that might be a solution?
I believe it is a bit too early to talk about the deployment of peacekeepers because active combat activities are still going on. Armenia rejected two attempted humanitarian cease-fires and Prime minister Pashinian openly stated that there could not be any diplomatic solution to the conflict. So, the issue of peacekeepers may be considered at a much later stage when all the other necessary elements of the peace settlement are in place.
Q: Finally, your Excellency, the United Nations and many other actors have called for cease-fire and resumption of the talks. Do you think this will happen soon?
This may happen even tomorrow, at least Azerbaijan is ready to resume talks as soon as possible. But, as they say, it takes two to tango and, unfortunately, most recent statement by Armenian Prime minister excluding any possibility of a diplomatic resolution of the conflict is a bad sign.
For talks to resume, Armenia has to stop its illegal military activities in our occupied territories and commit itself publicly that it will withdraw its armed forces from all the occupied territories of Azerbaijan, as it is demanded by four resolutions of the United Nations Security Council, by international law and by the common sense.