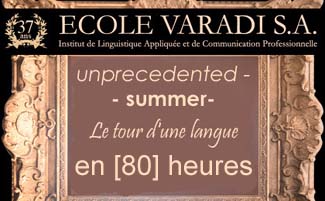 ONE-OF-A-KIND SUMMER COURSES FOR AN UNPRECEDENTED SUMMER
This summer in Geneva you can learn English, German, Spanish, Italian, Russian, or 28 other languages by travelling around the world – virtually! Our engaging and productive summer lessons will allow you to live and breathe your chosen language and feel like you're actually away on holiday.
Your teacher, a native speaker, will lead you on a journey of enchanting and captivating discoveries. You'll marvel at breathtaking landscapes, look in admiration at marine life, take in a wildlife park, stop off at one of the world's most stunning museums, and head on to a safari or experience festivals from cultures far and wide..
At each moment of your lesson you will build up new knowledge in your chosen language, and your teacher will introduce the vocabulary and grammar in a way that's lively and relevant to what you're discussing, and not dull and abstract.
Let's go far while staying close by!
Full immersion programmes in English, German, French, and 28 other languages will allow you to make real progress in your chosen language in just a few weeks, thanks to our innovative method and through enriching, stimulating, and motivating lessons.
« Around a language in a matter of weeks » is a quick and efficient language learning programme that enables you to learn a new language in record time thanks to highly-effective and completely personalised teaching techniques. Our flexible, creative, and friendly teachers ensure a relaxed and stimulating atmosphere during lessons, and know how to motivate their students and adapt to the specific needs of each learner.
Most of our students come to us telling of their strong aversion to grammar, and are reassured to find out that there's another way of approaching it. Rather than studying abstract and theoretical rules, they discover clear and practical shortcuts.
And instead of tedious vocabulary lists, you memorise vocabulary over the course of lively and authentic conversations with your teacher about subjects that spark your interest. Your teacher will develop a programme that is completely tailored to your level, rhythm, learning gaps, objectives, and specific needs.
Distance-learning with your teacher at your side
During the pandemic, numerous online platforms appeared which brought about the possibility of visiting museums, natural sites, and cultural events online. Our teachers enrich their language lessons by integrating these tools in a constructive and novel way. This makes the lessons interactive while maintaining the same authenticity and spontaneity in the interaction that you would have with your teacher in person in the classroom.
In the heart of Geneva, a few steps from the rue du Rhône, our bright and inviting classrooms overlooking the Geneva 'jet d'eau' fountain and the mountains offer a welcoming learning environment for our students. However, in light of health concerns in these unprecedented times, our students can also opt to have lessons online with the same teachers should they wish. That also means you can take lessons from wherever you are.
Flexible hours from 7am to 10pm – 7 days per week all year round
Motivating summer courses for children and teenagers
Our intensive summer courses prepare children who have recently arrived in Geneva for going back to school so that they can continue their schooling in French or English without difficulty. They can then carry on with the lessons, alongside the ones they have at their school, for as long as they need.
Refresher courses in all school subjects
Our tutoring programmes and motivation coaching in all school subjects are adapted to the specific needs of each student and take place in a stimulating and reassuring environment. Our friendly and experienced teachers have a genuine gift for teaching, and teach their mother tongue and all school subjects with a method that is flexible yet structured, demanding yet encouraging, as well as interactive and lively. It places the student at the centre of the learning process.
Our innovative and completely personalised teaching solutions allow children and teenagers to bridge the learning gaps in the subjects they find difficult, regain confidence in their abilities, rebuild their self-esteem and discover that learning can be a real pleasure.
Whether it be for maths, sciences, German, French, or learning to read, it is essential for the student to restore confidence in their abilities and to allow them to regain their motivation. During this process, the student will equally find out about and acquire learning strategies.
ÉCOLE VARADI SA
32 avenue de Frontenex – 1207 Genève
www.ecole-varadi.ch
info@ecole-varadi.ch
Tél.: 00 41 22 736 28 74