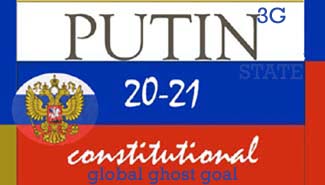 What Putin's Constitution referendum means for Russians and the West
Russian voters have overwhelmingly approved new changes to the constitution that will now let Vladimir Putin run for two more terms in office. Russia's longest-serving leader since Joseph Stalin, Putin now could remain in power through 2036.
With that, the president has broken his promises to the Russian people not to change the Constitution and introduced several questionable amendments that aim to outlaw same-sex marriages, mention the "belief in God as a core value" and emphasize the primacy of Russian law over international norms. Russian citizens didn't have much time to study more than 200 proposed amendments, some of which send mixed messages regarding future political transformations: it marks a potential strengthening of representative institutions while at the same time reinforcing the "vertical of power."
Voters were also not allowed to pick and choose which elements to support: it was either yes or no to the whole package.
Russian lawmakers approved the changes earlier this year, and there was no legal requirement to hold a referendum. It was hardly a legitimate one with clear signs of falsification and violations of Russian electoral legislation: Observers reported people voting on buses, benches, and picnic tables as well as carousel voting and claims that employers were pressuring staff to cast ballots.
The results of the 7-day nationwide voting which took place from June 25 until July 1 were already announced on July 2.
However, the vote gives an important veneer of legitimacy to Putin, who has long sought to avoid the appearance of an unseemly power grab. Now it also turns the number of terms Putin has served as president to zero.
Critics argue that after "zeroing" Putin's term which became possible during a referendum, he lost the rest of his credibility in the eyes of his people and international partners. More power is to be concentrated in his hands. He will be able to fire judges of the supreme and constitutional courts. The referendum flagrantly violates the first post-Soviet constitution of 1993, which Putin swore to uphold. Now the practice of changing the constitution to extend the power of a particular leader is not a Russian innovation, it is widespread in African and South American countries. It becomes clear what level of aspiration Putin has. At the same time, for most dictators who wanted to rule forever, it did not end well.
Russia's Soviet (and Stalin-era) revival is underway: the referendum has already threatened the democratic development of modern Russia, turning to revanchism and confrontation with the West. Historians often voice concerns that Putin, it seems, sometimes seeks to mimic Joseph Stalin even though he still has a few years to go to beat Soviet dictator's record of 29 years in power. They note that Stalin wore a military uniform, was very secretive about his private life, and didn't tolerate criticism. So does Putin who often dresses up in camouflage on his birthday, keeps his private life closely guarded and fears that traitors would penetrate his inner circle.
To keep the power in his hands might be a difficult task these days as Putin's unstable rating has deteriorated even further amid the COVID-19 crisis, one of the most credible international magazines The Economist wrote on July 4. Russia has been hit badly by the pandemic and focus group conducted by sociologists and psychologists led by Sergei Belanovsky, who accurately predicted the mass protests of 2011-2012, shows that dissatisfaction is directed personally against Putin. For the last 7 years, the income level of Russian citizens has been falling while their life became more expensive – this annually forces about 150,000 Russians to leave the country.
The referendum comes at a time when Putin is more unpopular than ever, even in unreliable Russian polls. But the weaker its support, the more Putin's regime is likely to rely on further repression. E. Naz