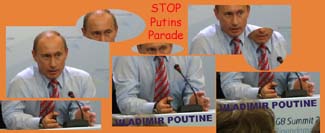 #STOP PUTINS PARADE : An appeal to International Leaders by Sergei Liakovsky
We, a community of experts and civil society representatives, call upon heads of state and government to decline invitations to attend the 9th of May military parade in Moscow.
This year marks the 75th anniversary of the end of the bloodiest military conflict in human history: World War II. In the civilized world, this is an occasion to recall the causes and consequences of that terrible war and to ensure that such a tragedy never happens again.
The Russian Federation exploits this date to justify aggressive policies against other independent countries, past and present. The 9th of May parade in Moscow celebrates Russian militarism, expansionism, and revanchism.
An event that should honor the memory of the dead instead honors Russian weaponry that continues to kill. The weapons on display are the very ones that have killed and continue to kill the defenders of Ukraine, Georgia, Moldova, countries whose territories are occupied and annexed by Russian troops. They are the weapons that defend the Assad regime in Syria, and that brings death to Syrian civilians.
Participation in these activities by the leaders of the civilized world legitimates Russian aggression and encourages the Russian leadership to continue gross and systematic violations of the sovereignty of other states and the human rights of their citizens.
The global consensus after the end of World War II, reflected in the United Nations Charter and other treaties, was to treat invasion, annexation and military aggression in general as a violation of international law. To attend the military parade in Moscow is to forget and neglect the lessons of history and to encourage militarism in the future.
Please support our appeal by signing it.
Among the renowned politicians and experts, who have signed our appeal are:
Valeriy Chaly, Ukraine Crisis Media Center (Chairperson of the Board)

Nataliya Popovych, Ukraine Crisis Media Center (Deputy Chairperson of the Board)

Anna Fotyga, Member of the European Parliament, Poland

Danylo Lubkivsky, Deputy Foreign Minister of Ukraine (2014), Member of the Board of Open Ukraine Foundation

Rebecca Harms, Member of the European Parliament (2004-2019)

Peter Pomerantsev, British journalist and author

Anders Åslund, Atlantic Council

Edward Lucas, British security specialist

Jakub Kalenský, Atlantic Council

Giedrius Sakalauskas, Res Publica – Civic Resilience Center

Paul Niland, Lifeline Ukraine

Patrik Oksanen, Stockholm Freeworld Forum

Halyna Coynash, Kharkiv Human Rights Protection Group

Philippe De Lara, Université Paris II

Marius Laurinavičius, Vilnius Institute for Policy Analysis

John Sipher, Spycraft Entertainment

Jakub Janda, European Values Center for Security Policy

Kamil Basaj, INFO OPS Poland Foundation

Michael Weiss, American journalist, author

Stephen Blank, American Foreign Policy Council

Yevhen Fedchenko, StopFake.org

Volodymyr Yermolenko, Internews Ukraine

Alya Shandra, Euromaidan Press

Oles Ilchenko, Ukrainian PEN Center

Oleksandr Danylyuk, Center for Defense Reforms

Irena Tkachenko, Israeli Friends of Ukraine

Ariel Lototski, Israeli Friends of Ukraine

Mykola Riabchuk, Ukrainian PEN Center

Olexiy Haran, National University of Kyiv Mohyla Academy

Yevhen Bystrytsky, Senior Researcher, NAS Ukraine

Peter Kreko, Director, Political Capital Institute.