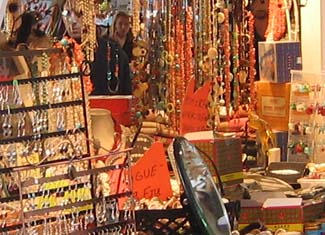 ITC, eBay launch Central America Hub on eBay just in time for Christmas
(Geneva) Women entrepreneurs from Costa Rica, El Salvador, Guatemala, Honduras, Nicaragua and Panama are determined to make online Christmas shopping more exciting thanks to partnership between the International Trade Centre (ITC) and eBay. Launched to coincide with the festive period, the eBay Central America Hub  will be promoting a unique selection of jewellery, textile, ceramic, leather and wood products – all handmade by more than 40 Central American artisans and designers.
Through the Central America Hub, eBay enables the women entrepreneurs to promote their products beyond domestic markets, potentially reaching millions of new customers around the world. ITC Chief of Sector and Enterprise Competitiveness Section Rob Skidmore said: 'Visibility and trust are crucial for any business looking to succeed in e-commerce. Together with eBay this is what we are ensuring: through their stores on eBay, the women entrepreneurs will be visible to millions of potential shoppers who are looking to buy products from a trusted website. And the participating entrepreneurs are determined to make the most of the opportunity'.
Soledad Borel of Soledad Art Jewellery, Costa Rica, has high hopes. 'With targeted online campaigns and continuous tracking of the sales metrics, I will be able to successfully promote my brand abroad, especially in the United States,' she said. Thanks to training provided by ITC, eBay and other partners, she is prepared. 'Through the training I've learnt about the importance of having good product photos, attractive and authentic product descriptions as well as a high quality packaging.'
The initiative is part of the European Union-funded project – Linking Central American Women-Owned Businesses with the Global Gifts and Home Decoration Market – which is implemented in collaboration with the Secretariat for Central American Economic Integration (SIECA) and local partner institutions. Alongside work to improve product design and the export capability of the women-led businesses, the project aims to open new business opportunities through e-commerce channels.
International online marketplaces such as eBay are transforming the way micro, small and medium-sized enterprises do business. Online sellers such as Soledad Borel are becoming micro multinationals, which do not only think across borders, but also have the tools to export and conduct business across borders.
Xavier Aguirre Rojas, Senior Business Development Manager, eBay Latin America, said: 'eBay supports business of all shapes and sizes, and in these regions where traditional business could be limited, online platforms can be an important source of income.'
E-commerce is particularly relevant for women entrepreneurs, who can operate from their homes and family businesses. In 2016, ITC conducted a survey with a sample of 200 micro and small enterprises in the Central American craft sector. The results revealed that although 80% of the people working in this sector were women, they own only 25% of businesses. Thus, by focusing on connecting women producers to online markets, the project seeks to provide economic opportunities for these women and ultimately address the gender imbalance.