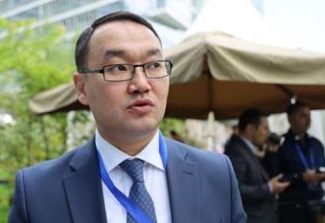 Yerzhan Ashikbayev, Kazakhstan's Deputy Minister of Foreign Affairs, speaks with "Diva" on being landlocked, international cooperation, stability and peace.
By Annegret Mathari, Almaty (Text), Peter Kenny (Photos)
Kazakhstan is the world's ninth largest country. But it is also the biggest landlocked country. "Therefore, to be part of global processes, we need to reach out to immediate neighbours and the global world. Being landlocked means dependence on your neighbours," says Yerzhan Ashikbayev, Kazakhstan's Deputy Minister of Foreign Affairs.
China's Belt and Road Initiative was announced by President Xi Jinping back in 2013 in the capital city of Kazakhstan, then Astana and now Nur-Sultan. Kazakhstan is seen as part of that belt and it is neutral. "We look very much forward to continue that cooperation," Ashikbayev told Diva magazine on the margins of the Eurasian Media Forum at the end of May in Almaty.
Kazakhstan has invested heavily in infrastructure, both railroads and roads. Transportation of goods through the territory is according to Ashikbayev a driver of Kazakh economy. "Our estimates show that if we attract only 2 per cent of the trade flows between the European Union and China or South East Asia, that will be very significant for the Kazakh economy."
With Kazakhstan wanting more trade it has almost doubled the transit of cargo containers each year. And to help it with international communications the country has introduced English as the third language in the educational system.
Contributing to international stability
Kazakhstan also wants to be part of global development by contributing to international peace. "This is evident from our history," emphasized Ashikbayev. "Kazakhstan has been one of the countries that got rid of nuclear weapons," while noting that Central Asia has been stable in the last 25 years.
International stability is important to Kazakhstan and that includes the Iran issue. The country was instrumental in resuming the talks on the Iranian atomic programme in 2013, which took place in Almaty, Ashikbayev said. And when the Iran nuclear deal was brokered in Vienna in 2015 by the permanent member of the UN Security Council — Britain, China, France, Russia and United States, all with veto powers, — and Germany "Kazakhstan again played a crucial role." It did this by agreeing to deliver natural uranium to Iran for which Iran agreed to transport out enriched uranium. "It was the role of Kazakhstan, the role of a fair broker, one who has constructive relationships with all the major powers, all the neighbours, and has the ability to convince that the atmosphere here is conducive to substantive talks," Ashikbayev explained.
Today Kazakhstan is deeply concerned about the deteriorating situation regarding Iran and is engaged in stabilizing the situation.
Host for peace talks
Regarding international mediation, Kazakhstan has a huge respect for the contributions of Switzerland and especially Geneva and the international organizations, Ashikbayev said. "The good offices, the good will of both, the (Swiss) Government and the international structures in Switzerland should be further utilized in the name of peace, prosperity and stability."Kazakhstan's capital is like Geneva, for example, host of Syrian peace talks. The world is so diverse, and mediation should not be limited to one or two centres only, according to the Kazakh Deputy Foreign Minister. In a multipolar world there are several countries eager and capable to bring different conflicting parties to one table.
Kazakhstan has an impressive record in this regard. Ashikbayev stressed, citing as an example the Congress of World and Traditional Religious Leaders where Israeli and Iranian religious leaders are sitting at the same table.
Also, the secretariat of the Conference on Interaction and Confidence Building Measures in Asia (CICA), that has 27 state members while the UN is one of the observer organizations, is located in Kazakhstan. "It's from that idea we managed, for example, to organize direct talks of heads of Pakistan and India during the previous crisis," Ashikbayev underlined. Living in a globalized world, any decision taken, especially by big players, including sanctions, has repercussions for other states, and Kazakhstan is no exception picking up collateral damage from conflicts.