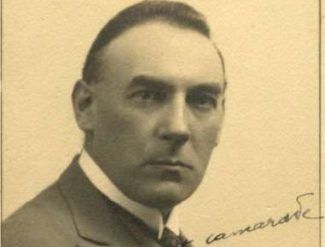 John O'Sullivan (1877-1955) :  'Heroic Irish Tenor'   
He was born in Cork on 29 October 1877 and died in Paris on 28 April 1955.  *Asile Hereditaire The life and career of John O'Sullivan by Francois Nouvion is a first detailed biography of the tenor whose career from 1929 was championed by the writer James Joyce (1882-1941) who shared his love of vocal music.
The book contains personal and professional pictorial including hitherto unpublished material. It was written by an established collector and author of operatic subjects who from his early years had an interest in John O'Sullivan. He began an extensive research of the tenor in the early 90s after meeting the O'Sullivan children, Jacques, Colette and Raymonde, from whom he learned much that largely contributed to the depth and breadth of the book. Jacques O'Sullivan died prior to its publication.
Early Years (1877-1909)*
His father, John O'Sullivan, was a physician in Killarney. The tenor's birth certificate states that his father was an apothecary. Due to the medical registration act of 1840 apothecaries and members of certain institutions were allowed to practise as doctors. Family letters of the time always referred to his father as Doctor O'Sullivan.
His mother Frances Anne Coffee (also spelled Coffey in documents) was fresh out of the convent when she married his father. According to her grandson, the baritone Jacques O'Sullivan, Frances had never entered a kitchen before her wedding. O'Sullivan was a descendant of Donal O'Sullivan Beare, a long line of an important clan sub-sept. In April 1883 O'Sullivan's father died of tuberculosis at the age of thirty-three. He was buried at the Abbey of Muckross on April 28, where his ancestors were laid to rest. After the death of her husband, Frances spent most of her time saying the rosary until her death in 1928.
Frances took O'Sullivan and his sister Anne (Annie), born February 23 1879, to Cork. An uncle urged them to move to France where a great-aunt, Miss Broderick, had offered to make O'Sullivan her heir.  He described Miss Broderick as a character out of a Dickens novel, authoritative, good hearted, inflexible and "more catholic than the Pope".  Miss Broderick delayed the move for a year as the hotel which she owned, the Hotel des Thermes in Forges-les-Eaux near Rouen, had a terrible financial year. Other family members however suggested Frances take up the management of the Lake Hotel in Killarney. They left eventually for France. The local Irish priest took from Frances the rest of her inheritance money. This made O'Sullivan anti-clerical for the rest of his life.
Frances and her children were at Forges-les-Eaux where things started to look up when a crook by the name of Ehristhmann embezzled Miss Broderick's money leaving her almost penniless. After Miss Broderick's death Frances went with her children to live in Rouen. There many years of uncertainties and material need awaited them. O'Sullivan became an altar boy at the Saint Maclou church. Music fascinated him. The organist encouraged him to continue his musical studies. He became a soprano soloist in the choir. It was here that O'Sullivan learned about the greatness of Palestrina, Scarletti and Stradella. His voice became very large for a child and apparently developed into a baritone, but he never performed on stage as claimed in other sources.
Life in Paris
Around the end of the century O'Sullivan sold his mother's violin. With the money he left with Annie for Montmartre in Paris. He met some bohemian characters and spent his time mingling with the painters, poets, artists and actors, who were the life of Montmartre. Annie met Paul Vulliaud (1870-1950) whom she married. He was the son of wealthy parents. He started as a painter and was spending his life as a rich bohemian. He began to believe in God when he met the Abbe Bremont and Vulliaud spent the rest of his life writing religious tracts which, after a long period of neglect, are being reprinted. When he married Annie, he stated he had married an Irish Princess.
O'Sullivan sought admission to the Paris Conservatoire. The Jury admitted him by decision after he had sung the baritone aria from La Coupe du Roi de Thule by Diaz on 30 October 1899.  He was in the class of Jean Masson for singing and of Vernaelde for solfege.
His future wife, Marguerite Dequin, was also a student at the Conservatoire where they first met. She entered in 1897 and left in 1900. He became acquainted with others including Corpait who started his career as a baritone and then switched to tenor.  He sold his costumes to O'Sullivan at the end of his short career. Another was Soreze, a Swiss citizen, whose real name was Rene Zeigler de Loes. Besides singing Soreze was an actor under the name of Seol. He inherited a fortune from his parents, owners of the popular restaurant chain Topsy, but he squandered his money and depended later in life on O'Sullivan for subsistence. He was just one of the many people O'Sullivan supported.
Still under great financial duress O'Sullivan received a subsidy of 100 Francs on May 8, 1900, from the Conservatoire. While still a student he made his debut at the Opera Populaire as Guiseppe in La Traviata on December 31, 1900.  In 1901, O'Sullivan took part in a competition for solfege at the Conservatoire. Since he attended classes so infrequently, the director asked his colleagues who that student was he had never seen before. On June 23, after learning little at the Conservatoire O'Sullivan finally resigned.
O'Sullivan had mingled with the Irish residents of Paris, participated at a Saint Patrick's celebration concert on 17 March 1901, and met the French-Irish composer Augusta Holmes or Augusta Mary Anne Holmes (1847-1903) who was born in Paris. Her parents were Irish and naturalized in France in 1879. She took him under her wing and he travelled with her on concert tours dedicated to her music in Paris and the French provinces where along with others he performed with the composer at the piano.
On March 23 1901 O'Sullivan was in Caen where he performed his second operatic role, Mirko, in the local premiere of La Montagne Noire. Le Minestrel commented "The work, superiorly interpreted by Mlle. de Saint-Andre, and MM. Beral and O'Sullivan stirred the audience to great enthusiasm".
International career
His reputation and career spread far and wide with O'Sullivan frequently in demand for roles in the depth and breadth of the operatic genre. He performed in concert and prestigious operatic venues in Europe and far beyond. His qualities as a tenor were viewed, reviewed and extensively commented for their strength of character and his singing ability plus the authenticity he achieved in his operatic roles.  He often used the name Sullivan as well as others throughout his professional career. The historiography and discography of his performances have been re-made with access to some of his roles.
He was frequently called upon at short notice to perform, or replace the original artists, when he would often travel overnight to head directly to perform at the venues. His career involved protracted absences from his family as his children were growing up. He was an elegant man who preferred to be his own master in life. His wealthy father-in-law helped to sustain the family finances during the periods of ups and downs in the course of the tenor's international career. He retired in 1943 and was diagnosed with prostate cancer in 1953. He died in Paris and was buried in the cemetery of Saint Ouen, France. The inscription on his gravestone reads "John O'Sullivan 1877-1955".
Ita Marguet, March 2019
Note:      Acknowledgement is given to sources used with credit to *Asile Hereditaire The Life and Career of John O'Sullivan, by Francois Nouvion, first published in 2012. Exlibris Corporation. The book includes Chapters on James Joyce and a Chronology of the tenor's appearances with many Acknowledgements and Appendices. It is available both in print form and as an electronic CD-ROM under copyright protection.