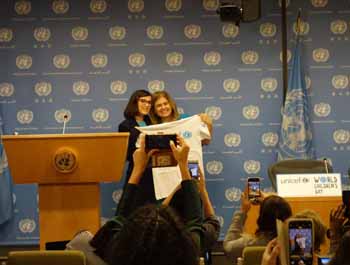 On the World Children's Day, when children across the globe unite for their rights, Emmy-Nominated actress Millie Bobby Brown was appointed the youngest United Nations Children's Fund (UNICEF) Goodwill Ambassador by Marit Fosse
At 14 years old, this makes Ms. Brown UNICEF's youngest person to ever take on the role. 
The British star of the Netflix series, Stranger Things, will use her global platform to help spotlight children's rights and issues affecting youth, including lack of education, safe learning spaces, and the impacts of violence, bullying and poverty.
"It's a dream come true to become a UNICEF Goodwill Ambassador," said Ms. Brown in a statement marking the Day. "It's a huge honor to join such an impressive list of people who have supported UNICEF over the years. I am looking forward to meeting as many children and young people as I can, hearing their stories, and speaking out on their behalf."
World Children's Day is commemorated annually as a day of action for children, by children, to raise awareness and funds for millions of children lacking basic resources and services.
To show solidarity for the world's disadvantaged and vulnerable youth, UNICEF is asking supporters to 'turn the world blue,' by doing or wearing something blue at school, on the streets, or on social media.
Ms. Brown kick-started the action in a short video last week, encouraging supporters to #GoBlue to defend and promote children's rights.
Around the world, notable leaders in entertainment, government, sports, and business are having children 'take over' their professional roles to highlight issues that interest them.
Children are assuming seats at parliaments in Montenegro, Peru, Tonga, Suriname, Zambia and others. In Brussels, youth will take over European Parliament, and five more UNICEF Youth Ambassadors are being appointed across the globe.
UN child rights experts reminded the international community of the challenges youth face around the globe and called UN Member States to scale up efforts in their defense.
"Millions of vulnerable children continue to be left behind, including child victims of violence, conflict and sexual exploitation, migrant refugees and asylum-seeking children, children living in poverty, children with disabilities, and children belonging to indigenous and minority groups," the experts said on Tuesday.
"The best way to leave no child behind is to put children first to ensure that no child grows up in a world of fear, violence and hopelessness."
UNICEF is calling on activists and supporters to sign its global petition, urging world leaders to demonstrate commitment to fulfilling the rights of every child, and acknowledge these rights as non-negotiable.
MF
New York, 20 Nov 2018