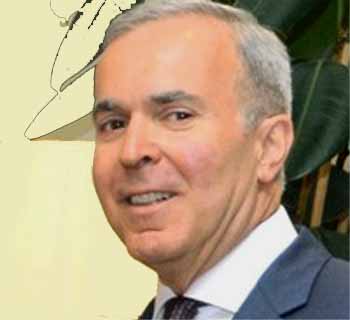 Interview With His Excellency, Ambassador Vaqif Sadiqov
Permanent Representative of the Republic of Azerbaijan to the United Nations Office
and other International Organizations in Geneva
Despite his long and impressive career, Mr Ambassador is a modest man. When he talks about his country, his eyes shine. This year, Azerbaijan celebrates an important historic event, the 100th anniversary of the creation of the Azerbaijani Democratic Republic. The country has indeed a fascinating history, and, thanks to the United Nations historical archives, more than 36,000 pages of the documents, from the days when Azerbaijan was an independent state, in 1918-1920, and a member of the League of Nations, have been scanned and sent off to the Azerbaijani National Library. In 1920, the country was absorbed by the Soviet Union and was part of it for more than 70 years before the country regained its independence in 1991. It is a subject close to His Excellency's heart, and he has spent hours in the archives looking for rare documents. Last year, in October, an important delegation consisting of the Deputy Prime-Minister and the Minister of Culture  came to Geneva to receive these documents and to participate in the celebration of the 25th anniversary of Azerbaijan's membership in the United Nations. We will leave the floor to his Excellency, who kindly accepted to tell us more about all these subjects and, not least, answer all our questions.
Q : Mr Ambassador, you have a long and impressive career, could you tell us a little about yourself ?
My career is long, but it's not extraordinary, given the history of the country in which I was born, the Soviet Union. I got my education in Azerbaijan when it was part of the Soviet Union. Before the sudden collapse of the Soviet Union at the end of 1991, I was a lecturer in the University. I was not even thinking about a diplomatic career. I was focused on my career in academia and got my PhD at that time. Then all of a sudden everything changed. We in the newly reborn Azerbaijan, which was like many others "elements" in the Soviet Union, found ourselves in the mix of a difficult and challenging period – both politically, economically as well as foreign and domestic. Based upon this, I came to the conclusion that I needed to do something for my country other than just giving my lectures and seminars. So, driven by this political euphoria which was in the air at that time, and being more ambitious than now, I thought perhaps the time had come to do something different.
That was the mindset of my generation, and that was the reason why the period 1990-1991 changed the status quo and the daily life of many of my generation. This is how I found myself in the diplomatic service of Azerbaijan at the beginning of 1992. Since then, I have tried to serve my country and my people in the same way that I tried earlier to teach young people.
Q : Before coming to Geneva, you were based in Italy working closely with the Rome-based United Nations agencies. Was that your only experience at the multi-lateral level of diplomacy before Geneva ?
Since my very first days in the diplomatic service of Azerbaijan, I have been dealing with the international organisations. I started my professional work in the diplomatic service dealing with the political-military institutions at that time, in particular our emerging relationship with NATO.
At that time, I was travelling a lot to Brussels. In 1994, Azerbaijan became part of the Partnership for Peace Programme initiated by NATO, and there were a lot of events in the field of arms control, in particular conventional arms control. The situation of the former Soviet Union's territories was changing quite rapidly, and all the arms control agreements that had been in place under the Soviet Union needed to be adapted to the new configuration. The former USSR republics emerged then as new political entities, and so the obligations and the commitments that had previously rested with the Soviet Union needed to be distributed among the new elements, the newly born countries.
My acquaintance with the United Nations system started in 1995 when I was appointed by the President to be the Ambassador of Azerbaijan to Austria. I was at the same time the Permanent Representative to the Organization for Security and Co-operation in Europe (OSCE) and the United Nations office in Vienna, and I had to work closely with some very important agencies – The United Nations Industrial Development Organization (UNIDO), International Atomic Energy Agency (IAEA), United Nations Office for Drugs and Crime (UNODC), the Commission for the Comprehensive Nuclear Test-Ban Treaty Organization (CTBTO). The CTBT had been negotiated here in Geneva, but the implementation body was set up in Vienna.
At that time, life was quite dynamic. After Vienna, I returned to Baku, and worked as Vice-Minister of Foreign Affairs, and then I was appointed to Italy. While working in Italy, I was again in touch with the United Nations through the three major UN organizations based in Rome – United Nations Food and Agriculture Organization (FAO), The International Fund for Agricultural Development (IFAD) and the World Food Programme (WFP). This was the second time that I was, so to speak, facing the United Nations organisations.
And finally, now I work here in Geneva, and this time my work is exclusively with the United Nations and the affiliated agencies. Some of my colleagues are also ambassadors to Switzerland but this is not my case. Azerbaijan and Switzerland have a lot of bilateral relations that require a separate ambassador, so, I have a colleague in Bern handling those relations while I deal only with the UN agencies here in Geneva.
Q : Only the United Nations organisations ? But alone is already a huge job
Well, that's true. Each organization has its own face, its own mind-set, so, you have to steer your way masterfully through all these organisations to first of all to use your time well and be able to represent your country to the best extent possible in each of these organizations.
Secondly, you must be able to keep up with all the developments that these organizations have under way these days.
Azerbaijan has quite advanced relations with the majority of the United Nations agencies and structures located here in Geneva, which means that I and my staff need to cover as much as possible all the things happening here. Each of my diplomats is multi-functional, handling a lot of different topics. It's challenging, but it also keeps you fit.
Q : Your country has just celebrated 25 years of independence from the Soviet Union, but before that you also had a short period of independence 100 years ago. How do you perceive that period ?
It is an interesting question and not easy to answer in a short way, but I will try. Last year and this year we are celebrating two important dates in our history. Last year, in 2017, we celebrated the 25th anniversary of becoming part of the United Nations. We joined in March 1992. Being a member of the United Nations has important political bearing. First of all, we became part of the United Nations family. Secondly, being part of the United Nations not only is a privilege but it also implies a lot of obligations and commitments, such as becoming members of international bodies, working groups, conventions etc. So, we tried, and continue to try, in our efforts – through both our domestic and foreign policy – to be full members of the international community and to respect our engagements.
The United Nations is best suited to countries like Azerbaijan, small and medium sized countries. For us, the United Nations is the best protection against any calamites and any problems. Bigger countries are also part of the United Nations, but on certain occasions they have the luxury of relying on their own vision of the world. If their own vision contradicts that of others, they may act in a very specific way that does not follow international regulations – international law. Let's be frank and honest.
Out of 193 member states, the majority are countries like Azerbaijan, trying to make this institution better than it is today. Sometimes critical voices are quite loud, and this should not be misinterpreted as undermining the organization – on the contrary. Our critical voices should be taken in a constructive way. The aim is to make the system more functional, more operational so that it can respond better to the needs of the majority of the member states.
That is why the 25-year anniversary of our membership was marked by recognizing the importance of the United Nations, recognizing the importance and primacy of international law. It was also an important internal learning process for us, as all of our legislation, rules and regulations have been changed to correspond to our commitments  within the United Nations and to the requirements of international law.
I am deliberately putting aside our membership in the regional organisations such OSCE, Council of Europe, OIC, NAM. This is another story, for the United Nations is a global organisation.
With regard to reaching our 25th anniversary, perhaps the most important feature of our membership so far, in my opinion, has been our Security Council membership in 2011-2013. There were lots of bumps on the road to getting elected to it. It was a very serious exam for us, and it was not easy. There were several rounds of votes. Altogether there were four other countries contending in our regional group, but we were able to overcome these difficulties, and we were elected by 155 votes in the final round.
Being elected was an expression of great trust being placed in the foreign policy of Azerbaijan, and we tried to be worthy of this trust. Thus, these two years of Security Council membership were a very serious test, most of all for ourselves, to show our ability and our responsibility in the field of foreign relations, and in particular within the United Nations. I think we passed this test very well.
During these 25 years we have also been members of other important United Nations institutions and elected bodies, like the Human Right Council. We were in the Council from 2006 to 2009. My predecessor was the vice-president of the Human Rights Council. Today we are members of the United Nations Economic and Social Council (ECOSOC) and a number of other UN institutions in Geneva.
Here in the Geneva, I have had the honour and privilege of being elected  a member of the Human Rights Council's  Consultative Group, and a member of the UNCTAD Advisory Group on the Strengthening of Training Capacity and Human Resources Development. I'm also the vice-chairperson  of the International Labour Organisation's Governing Body's Government Group. This is a serious matter of confidence placed in Azerbaijan by our partners, and we do our best to respond accordingly.
In recognition of the 25th anniversary of our membership in the United Nations, Azerbaijan presented a gift to the United Nations Office in Geneva, a monument presented on 3 October last year called "Thoughts and Desires" by famous Azerbaijani sculptors Salhab Mammadov and Ali Ibadullayev. It was inaugurated in the presence of Director-General Michael Moller, our Deputy Prime-Minister and the Minister of Culture, and members of the UN diplomatic community.
This year we are celebrating another big event. The 100th anniversary of the establishment of the Azerbaijani Democratic Republic. For us, 1918 is a very important year. Just after the collapse of the Russian Empire, the Azerbaijani Democratic Republic was established in May. As you rightly mentioned, it had a very short life, only 23 months. It was created  on May 28, 1918, and was  invaded by the  Communist Russia, in April 1920.
If you allow me, I would like to mention some historical dates. From the end of eighteenth century and into the beginning of the nineteenth century, Russia was expanding its territory and seized what is today called the  Southern Caucasus. Azerbaijan was at that time divided into two parts, the northern part of Azerbaijan became part of Imperial Russia, which became later the country that I represent here. However, the majority Azerbaijani territory and population were part of the Persian Empire, so, today these Azerbaijanis are living in Iran. In the Islamic Republic of Iran we have from 15 to 20  million of Azerbaijanis, whereas in the Republic of Azerbaijan we have approximately 10 million people.
This was the first milestone in our history. Then another milestone was the collapse of the Russian Empire in 1917, and the establishment of the Azerbaijani Democratic Republic. For us, this short period was extremely important, and I will try to explain what I mean. The Republic became a member of the League of Nations. Here in the United Nations Library, thanks to the assistance of Mr Francesco Pisano, the Library's director, and UNOG Director-General Mr Michael Moller, I found in the League's archives the original documents related to our membership in the League of Nations and our delegation that was here in 1918-1919. Last year we came to an agreement with the Library, and they made digital copies of almost 36,000 pages of documents related to Azerbaijan covering the Paris Peace Conference and subsequent relations with the League of Nations. These documents pertain to Azerbaijan, to the Peace Conference and to our membership in the League. Today they are in the National Library and the National Academy of Sciences in Azerbaijan. Researchers are now working on these documents. So, there was quite extensive diplomatic activity.
For us, the Azerbaijani Democratic Republic was important in the sense that it represented new independence after our having been part of the Russian Empire.
The Azerbaijani Democratic Republic's parliament was the first multi-party parliament in the whole Muslim Orient. Another important achievement was that all women were given the right to vote already in 1918. Thirdly, the parliament voted through a number of decisions that are still valid today. By the way, the national flag, the national anthem and coat-of-arms that we have today are the same as those created in 1918.
Thus, in 1991, when the Soviet Union collapsed, the Parliament of Azerbaijan announced not the establishment of  country's independence but the restoration of its independence. In the political mind of people, we were not beginning our independence in 1991 but were simply restoring our independence of 1918-1920, which had been snuffed out by the intervention of the Communist forces and lasted 70 years.
This is an important distinction.
This restoration of independence in 1991 with the collapse of the Soviet Union was a third historical bench mark, and we continue on this course. On the 28 May this year, we will celebrate the 100th anniversary of the Azerbaijani Democratic Republic.
As regards Azerbaijan, I could also add that there were some other "first" things that were also done in that period. For example, the first opera theatre in the whole of the Muslim Orient was established in Baku in 1911. The first opera "Leyli and Majnun" by Azerbaijani composer Uzeyir Hajibeyov premiered three years earlier, in 1908 and was the first creation in the opera genre not only in Azerbaijan, but also in the whole Muslim world. The first ballet was also in Baku, in the same theatre. In those days, women were not allowed to perform in a theater, so, all the female roles were played by men. The first university in Azerbaijan was established in Baku in 1919. It is still functioning, the Baku State University.
Azerbaijan also introduced the Latin alphabet in 1918 for our language. In 1939 we were obliged to shift to the Russian Cyrillic Alphabet, and one of the first things we did just after the restoration of independence was to shift back to the Latin alphabet in 1992. Now all schools and universities are functioning with that alphabet, although this is not without certain difficulties. A lot of our manuscripts and the basis of our national literature, dating back to the twelfth and thirteenth centuries, were written in the Arabic alphabet, which means that if you want to look at our literature, you will find poems, manuscripts all in the Azeri language but written partly in the Arabic alphabet, partly in the Cyrillic alphabet and partly in the Latin alphabet.
Q : You were under Soviet rule for 70 years. How did you manage to preserve your culture ?
I have been asked this question by many people. Of course, when we look into history, we have to be objective. With all the negative attitude that one might have towards the Soviet Union, it would not be right and fair to paint everything in black. I cannot speak for the 14 other republics that were incorporated into the Soviet Union and mostly in a very violent way. I can only speak for my country. During these 70 years, there was of course a development of literature, art, sculpture. Brilliant pieces of art were produced at that time. The people were Soviet citizens, but still the development of the nation continued.
I cannot say that everything was crushed or destroyed – that would be far from reality. The only thing was that art, literature etc. was done by Soviet citizens. The political system of the Soviet Union was very different from what other people in Switzerland and other countries in Europe were enjoying, but that's another story.
However, I cannot say that we were oppressed to the extent that we did not have education – that is not right, and that would be distorting reality. We had schools, universities etc. I went to Soviet type schools and university, and it just happened that I witnessed the collapse of the Soviet Union. Of course, there were some difficulties – in particular going to foreign countries to get education.
One of the difficulties was religion. There were mosques of course, but their number was limited, and they existed in a controlled manner. Azerbaijan historically has been, and continues to be, a multi-confessional and multi-ethnic country.
Q : Are young people still learning Russian in Azerbaijan ?
Yes, they are, but Russian is becoming more like a foreign language. The official language is Azerbaijani, but we also take  into account that we have a lot of different national ethnic groups groups living in Azerbaijan, who have theatres, cinema, literature and most importantly schools in their languages. Being bilingual or even trilingual is common in Azerbaijan.
Q : It seems like you have a very vibrant artistic environment in Azerbaijan.
It is moving a lot, today. First of all I have to say that nothing is strange. As I said earlier, Azerbaijan is a multi-ethnic and multi-confessional environment. This has always been the case, and I hope it will continue to be so. So, that is one of the sources of creativity. Secondly, it is historical. Azerbaijan, as you might know, was on the historic Silk Road, which started in Italy and went all the way to China. This means that in those days there were hundreds of caravans moving from the East to West and from the West to East passing through Azerbaijan. Of course it was important in terms of trade and money, but most important was perhaps not trade and money but that the population was always in touch with foreigners and their cultures and ways of life, and this opened their minds and made them receptive to new ideas, to  diversity, to a broad idea of society.
This is one of the reasons why there is such a diverse culture in Azerbaijan, and it is reflected in many ways, in visual arts, music etc.
We invest a lot in culture and education. These are the biggest budget items. From 1991 to 1993 it was difficult, but today we have overcome these challenges.
Culture is important for everybody, but for small countries like ours, it gives a potential to survive, in particular today in the globalized world when you are literally bombarded by information either through emails, tweets or TV and internet, etc. I do not want to sound like a hard-line conservative, for this is not the case. Although it is positive that the information space belongs to everybody, it's also important to keep your own space. If you don't, you will be dissolved in a big global mass ranking from Coca Cola to whatever. The beauty of the world is in its multi-cultural, multi-coloured structure. Each culture has its own national colours. If we do not keep these various cultures, we will end up with one vast, grey space, where all the colours are dissolved slowly but surely. Today all major shopping streets around the world look more or less the same, and you find more or less the same brands everywhere.
Europe has still not recovered completely from the 2008 economic crisis. How are things in your country ?
In 1992, when Azerbaijan restored its independence, the economic situation was a complete disaster. We had an inflation at that time of almost 1,800 per cent. Slowly,  but surely we started to put the house in order. A very important element of the economic policy at that time was the opening of the oil fields of the Caspian Sea to the outside world. Azerbaijan was the first country to invite international oil companies to come and develop the sector. The first big oil contract between Azerbaijan and major international oil companies was signed in 1994. In 1997-1998, we saw the oil flowing. Azerbaijan was fast developing with this oil money until 2015, it was going like a rocket. In  2006, our annual growth was close to  40 percent, and we were on the top on all the charts. It helped us a lot in several ways. With all the money generated from the oil, some people would say it's a curse, bad money, but all countries need money to develop. The big question is how you use it, either  you waste it or  you put it into the right sectors. We immediately started to restore and improve the infrastructure, because without roads, railways, electric lines, gas pipelines you cannot restore the development of the country. This does not mean that we did not have this infrastructure before, but it was old and in a bad shape after the Soviet Union's collapse. So the government invested a lot. This heavy investment, and the foundation it created, allow us today to invest in other sectors as well. Do not forget that we also had to invest a lot in our defence sector because of the ongoing armed conflict with Armenia, and to continue to support almost 1 million refugees and internally displaced persons that we have as the result of this conflict and occupation of 20 percent of our territories by Armenia. We have been building new houses for them. They are now  provided with new accommodation, so, we do not have all these awful looking refugee camps like we had in the past. Politically, the conflict continues, but the suffering of the people has diminished. That was also an important area to invest in.
In 2015-16, we were seriously hit by the falling oil prices – thank God, not to the point of total chaos, for we were protected by our foreign currency reserves. But yes, we were affected. The government immediately drafted a new economic policy, which is mainly designed for the non-energy sector. In 2007-2008, in addition to oil exploration, we discovered huge offshore gas fields. Today gas production is more important than oil production, and today we are finalizing the longest pipeline from the Caspian Sea to Italy.
Today we are investing a lot in infrastructure projects, environmental projects, tourism and health care. These are the priority areas of our government.
What does Azerbaijan have to offer as a tourist destination ?
Let me put it this way: the territory of Azerbaijan contains 9 out of the world's 11 existing climatic zones. We do not have the classic dessert as in Saudi Arabia, nor the tundra like in northern Canada and Russia, but all the rest is there, lakes, mountains, sea… In the north, we have the Caucasian mountains that mark the border between Russia and Azerbaijan. There we have fantastic resorts with international airports. People go there to ski. We also provide medical tourism. We have two unique things. One is the medical spa in the city of Naftalan, and the other one is a salt mine in Nakhchivan region, where people can stay and breathe. It's very good for people with asthma and skin diseases. We are also developing cultural tourism. You can go up in the mountains, and find unique villages with crafts going back to centuries, more precisely the fifteenth and sixteenth centuries because they preserved their traditional way of life. It is also a very popular destination among tourists.
As a former Vice-Minister of Foreign Affairs, what challenges do you see as being ahead of your country, apart from finding a peaceful solution of the conflict with Armenia ?
First of all, since 1992, the priority for Azerbaijan's foreign policy has been putting an end to the occupation of our territory. It's a complex situation and  involves a lot of components such as the withdrawal of the Armenian occupation forces from Azerbaijan, return of Azerbaijani refugees and the internally displaced persons to their native lands, the complete restoration of the economy of the presently occupied area. This is the reason why the end of the occupation is a complex notion. This is the priority, and it finds its manifestations in internal policy, external policy, economic policy and even in cultural policy. All of our cultural elements, museums, monuments in the occupied territories have been destroyed, so, this also touches on culture. That continues to be the priority for Azerbaijan. The rest comes after that.
Finally Mr Ambassador, you have now been posted in Geneva for more than two years. From your previous experiences, what are the pros and cons here ?
I am a person who always looks at things from an optimistic point of view. First of all, Geneva is very well suited to be the centre of international diplomacy. It is not a big city, but it's very well organized, like Switzerland in general. Sometimes as a diplomat I feel a little ashamed vis a vis the local Swiss population  because of  us, diplomats giving probably so many headaches to the local authorities. Probably they have plenty of reasons to be critical of the international community. In any case, as a member of the diplomatic corps, I think the United Nations is lucky to be located here, and I'm grateful for all the support we get from the local authorities. We are also very grateful to the locals who are so tolerant and open, not only to us but also to our family members. We are mostly  busy in meetings in the United Nations agencies, but we also have our family members who are probably enjoying more of Geneva than we do. My impression of Geneva is also my wife's impression, so, I see Geneva not only through my own eyes but also through those of my wife, who is more exposed to the city than I am.
Thank you very much Mr Ambassador.