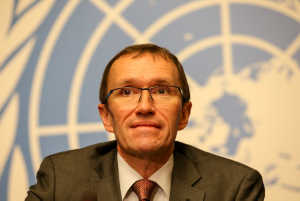 Cyprus Talks 'on Track' Ahead of International Conference – UN Envoy 
11 January 2017 – As the United Nations-facilitated talks on Cyprus went into their third day in Geneva ahead of an international conference tomorrow, the UN adviser on the issue has said the discussions are "on track" and while there is still much hard work to do, an "historic" outcome could be reached as part of ongoing reunification efforts.
Espen Barth Eide, the UN Special Advisor Cyprus who has been facilitating talks between the Greek Cypriot and Turkish Cypriot leaders, told reporters: "We are on track, we have dealt with some of the most difficult issues we have touched upon almost all of them, we have solved many of them and we are close to resolving some other issues."
Taking a break from the discussions, Mr. Eide said that he expected the delegations to present comprehensive maps to each other before the day was out – "a very important and historic moment. Never before have we had an exchange or presentation of maps created by the Cypriot delegations themselves […] with every sentence and comma written by Cypriots."
The UN Special Advisor credited Greek Cypriot leader Nicos Anastasiades and Turkish Cypriot leader Mustafa Akinci for their commitment to finding a solution over the last 18 months.
The issue of land is key, Mr. Eide explained, describing it as a "big part of the trauma" that has affected Greek Cypriots and Turkish Cypriots since the division of the island in 1974.
If all goes to plan, the draft maps will then be placed in a UN vault and pored over by cartographers from the two delegations.
The so-called guarantor powers – Greece, Turkey and the United Kingdom – are also set to arrive in Geneva Thursday to take part in the talks and the parties will be "able to really deep dive and get a good start on the discussion on security and guarantees." United Nations Secretary-General António Guterres is expected to open and chair the conference.
---
"I would like again to say that what is happening tomorrow, whatever outcome, is historic, because it is the first time in this process that the guarantor powers have actually met with the Cypriots to discuss this very contentious, traditionally very difficult issue of security and guarantees, basically the entire security setup that will surround a settlement in Cyprus," he said.
Sounding a note of caution, UN Special Advisor Eide said that although he believed that this was "the best chance" of a deal, he did not expect to leave the talks with everything agreed, or with a referendum date.