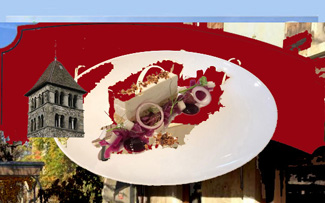 Looking for unique eating experiences Come to Le Clocher in Annecy-le-Vieux, Haute-Savoie, France
Does Annecy le Vieux ring a bell? It is not the historical city of Annecy, as many people tend to believe, but rather one of these quiet suburbs of Annecy. For a strange reason, the gastronomes in the region have all settled there, and now you have two restaurants with Micheline Stars, Claude Sens, and Felix, and as this is not enough in front of the Town Hall you find 3 excellent and more reasonable priced restaurants where the food is excellent, Le Café Brunet, Le Clocher and Le Petit Prince.
The tree above-mentioned restaurants are all located in the heart of the capital of Annecy-le-Vieux, a large part of which is classified as a historical monument. The restaurant Le Clocher occupies the ground floor of a very old building over 4 centuries old. Taking its name from one of the most beautiful historic monuments of the Romanesque type in the whole region – a bell tower dating from the 12th century – the restaurant Le Clocher benefits from a unique setting, with a terrace, where modernity and authenticity blend, the furniture with contemporary lines harmoniously alongside thick exposed stone walls.
Chef Benjamin Schwab's cuisine evokes in all respects this exceptional heritage and cultural richness. In the kitchen since February 2018, the latter offers a menu that changes with the seasons, mainly made from local and fresh products. A wine list, particularly varied and adapted to all budgets, will enhance your meals in the most beautiful way.
Honored with several labels including those of « Quality Tourism », « Maître Restaurateur » and « Member of the Culinary College of France », the restaurant Le Clocher stands out as an essential table in the region.
Le Clocher, was just awarded the distinction of being among the 100 best cellars in France. It has been a long way getting there but Bruno Colomb and his dedicated staff have made it! Le Clocher, is one of the traditional food restaurants, and in the summer, they have a lovely terrasse outside, and a place where people meet to play petanque.