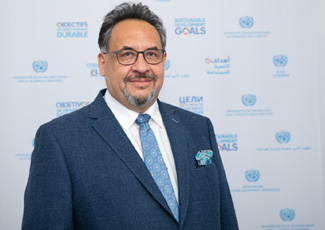 Interview with BERNARDO CALZADILLA-SARMIENTO, PHD United Nations Industrial Development Organization (UNIDO)
Many might remember him from his days in Geneva, when we could meet him on the UN premisses. Today he is one of the favourite candidates to replace Mr Li Yong who will step down after having served the organisation for two terms. We had a chance to meet Mr Calzadilla-Sarmiento and will now leave the floor to him.
Q: Many people remember you from your Geneva days. Could you tell us a little about yourself and what brought you to this candidacy?
Growing up in Bolivia, I personally experienced many development challenges that developing countries still face today. Their resilience and strength inspired me to devote my whole life to inclusive and sustainable industrialization, which in turn allowed me to work with very committed people in Africa, Asia and Latin America.
My experiences have strengthened my belief in "optimization through standardization" and in the importance of Trade as a driver for economic prosperity and growth: to access markets, production capacities need to be in place, and this is exactly why and where industrial development plays a key role.
My time in Geneva further strengthened my convictions, also because I saw, during my spell as Director of Technical Assistance and Training at the International Organization for Standardization (ISO), the importance of multilateral cooperation among organizations including WTO, ITU and UNCTAD.
Now, with over 30 years of experience at the international level, and while being aware of the road ahead, I am still deeply passionate about making a positive contribution to people's lives around the word; this is my prime motivation to lead an organization such as UNIDO.
Q: What is so exciting about industrialization? To what extent is it still a key component in today's world, and how does UNIDO fit into this?
Industrialization is a powerful tool to lift people out of poverty as it creates value and therefore contributes to sustainable livelihoods and the transformation of societies.
Industry has the potential to create jobs and, in the process, to positively impact the wellbeing of many families and communities: this becomes clear when we look at the dramatic societal development which occurred during the First Industrial Revolution, when the United Kingdom essentially transitioned from an agrarian society to an industrial society, later prompting widespread social and labour market reforms that benefitted millions of ordinary people and enabled social mobility for the very first time.
Today, we need to make sure that industrialization benefits people, but also the planet. While industry is often said to be the cause of climate change, it must become part of the solution — through innovative business models, circular economy approaches, digital green technologies and the efficient use of resources.
UNIDO's mandate is mirrored in its Inclusive and Sustainable Industrial Development (ISID) pledge and is anchored through Goal 9 of the Sustainable Development Goals, which reaffirm the global relevance of industrialization.
Since the 2008 Financial Crisis, we have witnessed a strong return of industrial policies that, however, require cross-border coordination. At the same time, and since industrialization is the other side of market access and trade, multilateralism is more than ever critically important to further strengthen the international trading system: this reinforces UNIDO's mandate as it is imperative to strengthen industry and trade capacities to exploit the benefits of better market access.
In this global context, time is of the essence for UNIDO to deploy its expertise and resources towards delivering industrial transformation and sustainable development, aligned to the needs of its Member States and the achievement of the 2030 Agenda for Sustainable Development.
Q: The world is facing many challenges these days, and these challenges have been amplified by COVID-19. What do you see as the biggest challenges, and how have they been affected, indeed aggravated, by the pandemic? What has changed irrevocably, and what must be kept and/or restored?
We are living in an era of unprecedented global challenges; COVID-19 has had a devastating impact on the world by, inter alia, disrupting global value chains and economic activity thereby negatively affecting Micro, Small and Medium-sized Enterprises as well as hitting the most vulnerable, women and youth, thus increasing inequalities.
This global disruption has happened in an already turbulent time, and other ongoing mega-trends have accelerated an unavoidable transformation of our global economy. For example: accelerated digital transformation through the Fourth Industrial Revolution has brought about many challenges and multiple opportunities as new technologies – such as artificial intelligence, the internet of things, and blockchain – are changing the very fabric of industry.
Primarily a health crisis, the ongoing COVID-19 pandemic has had drastic global economic implications as well as over 120 million additional people require immediate support to contain the spread of the virus and to adapt to the new normal. As such, developing countries need to strengthen their health industries to resist future shocks and respond to the increased demand for medical production, pharmaceuticals, and vaccines.
They will also have to adapt to the accelerated digitalization of manufacturing precipitated by the pandemic also because of the digital divide between high income and developing countries, which make the latter particularly vulnerable to the reshoring of labor-intensive sectors: building digital manufacturing capacities is thus vital to long-term recovery, as is a robust industrial policymaking framework.
UNIDO has an important role to play in these efforts; its mandate places a strong emphasis on expending productive capacity of medical essentials; protecting labour health and safety; creating shared prosperity; mitigating risks of supply chain disruption; maintaining business continuity; and accelerating post-crisis rehabilitation.
At the same time, creating greater opportunities for women and girls, and training and skills development for young people, will be essential to strengthen local production and manage medical waste sustainably.
COVID-19 presents an opportunity for all of humankind to act in solidarity and to use this crisis as an impetus to achieve the Sustainable Development Goals; however, there is a time-limited window to reimagine health-related industries in developing countries: by acting fast and smart, UNIDO can set a constructive agenda utilizing the principles of sustainable development, and open up partnership and funding opportunities.
Q: You are currently in the race for the post of Director-General of UNIDO [write this out in full, either here or in the introduction or both]. Why would you like to get this position, and what do you, as an individual, wish to achieve?
I would like to build on what UNIDO already does well, and change it to make it even better. I truly believe in the mandate of the Organization and that we can have a meaningful impact that will change people's lives worldwide. But, if we want to tackle global challenges, we need to work together. Strategic collaboration will be key to ensure that no one is left behind.
UNIDO is a highly specialized agency whose role is to accompany developing countries on their development path as a technical partner and adviser. But ownership needs to be with developing countries themselves. We must leverage our policy expertise to assist them in their transformation to smart industrialization.
Through close coordination, cooperation and public-private alliances, UNIDO is in a unique position to bring together partners to boost sustainable industrial transformation thematically and at the global, regional, national levels. We will only work successfully together if we build trust among all actors; and engage and re-engage governments, public and private players.
UNIDO should contribute to the collective effort through global public goods, including policy advice, knowledge sharing, capacity building and agenda setting. Looking to the future, I believe that it is of utmost importance to focus on training and skills development. The world is changing rapidly, and we need to equip young people with the right skills set to embrace the future.
I would really wish for industrialization to be seen as positively impacting people's lives, in a sustainable, inclusive and gender-responsive way. Ultimately, no society can success if 50% of its potential is disregarded and we will therefore only achieve sustainable transformation for all if we reduce inequalities and empower women.
Q: In your mission statement you say: "The future of industrialization must represent a new paradigm, driving towards resilient and sustainable development for the benefit of all people. How do you define this new paradigm, and what are the obstacles we face in lining up our reality with your vision of a new paradigm?
One of the key lessons we learned from the COVID-19 crisis is that we cannot return to "business as usual" and that we must "build back better". To achieve this goal, we need to address the interlinked challenges of climate change, biodiversity loss and pollution, and the paradigm shift promised by the Fourth Industrial Revolution. This will provide a new window of opportunity to achieve an equitable, and evenly distributed recovery.
Post-COVID-19 economies can rethink their industrial models towards the twin transition to a green and digital economy. But, for this transition to happen, we must enable manufacturing and the industrial ecosystem to ride a new wave of innovation and technology that is sustainable, circular, and scalable.
This twin transition must ensure that no one is left behind, and especially not women, young people, migrants or rural dwellers. Harnessing new business models and technologies can help generate huge gains with respect to economic growth while reducing resource consumption; improving the decarbonization of industry; accelerating the roll-out of renewable energy sources; enabling climate adaption of industry; and moving towards a more circular economy.
UNIDO is in a unique position to leverage its expertise to develop a holistic approach towards the digital and green transformation of industry. Close cooperation with the Geneva-based Organizations will be vital to tackling these future challenges, given their global expertise in strengthening healthcare, upscaling digital infrastructure, enhancing trade and development inter alia.
I believe that my lifetime of experience of industrial experience worldwide leaves me best placed to implement this transition, and I relish the challenge.