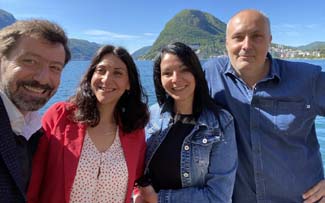 YouTeach Training Institute Questions to Bernard Cazaban, Head of Acquisition and Development of YouTeach
---
You are a former international civil servant and have lived in many countries on several continents. Why did you decide to move to Lugano and work for the YouTeach Training Institute?
After a rich and eventful life in the UN and other institutions, I wanted to move to a more peaceful setting where I could write a new chapter of my life. I have been wanting to pass on my knowledge and, more generally, the lessons I have learned from my life experiences.
YouTeach is a training and coaching institute in almost all fields and for all ages. When Patrizio Corrado asked me to become his Acquisition and Development Manager, I saw a fantastic opportunity to develop the activities of an organization focused on training and personal development. This has always been my favorite subject. For me, education is the key to opening the doors to grow personally and to a better world. 
How was YouTeach created and what does it offer?
YouTeach was created by Swiss-Italian Patrizio Corrado, a native of Fribourg, who is the Administrative Director. He originally trained as a math teacher and while practicing his profession in Ticino, he soon realized that many people needed to be tutored. So he started tutoring at people's home in his own subject and gradually looked for other teachers to cover all school subjects.
His idea was to bring knowledge to the people. People don't have to travel and can take advantage of lessons at home. The activities have started in Ticino and are now being extended to the whole of Switzerland.
YouTeach is the reference training institute for private lessons and personalized coaching. It operates as a real school and university at home and in-companies. Our teachers are all qualified. They are at our customer's service all year round for individual or group lessons at all levels in all subjects. We are present everywhere in Switzerland and soon abroad to meet learning needs, even at the last minute.
Why is teaching important and what are your specificities compared to other training institutes?
Learning is very important. To deepen or acquire knowledge allows one to develop and thus to envisage a better future for oneself and for one's community, thus for the whole of humanity.
Normally, we always travel to our clients. Either at home for individual or group private lessons, or at the company, for individual or group lessons or seminars.
Our team of qualified and trained teachers, with degrees and doctorates, is available year-round to offer private lessons at home (currently more online) in all subjects and at all levels (elementary, middle school, high school, university and business). Not only are we extremely reactive as we travel to all territories, even the most remote, and we do our best to respond to a last minute need (review course for an exam for instance), but we also teach a very wide variety of subjects.
We teach languages: English, German, French, Italian, Spanish, Portuguese, Russian, Arabic, Latin, Japanese, Chinese. We teach sciences: mathematics, natural sciences, statistics, physics, chemistry, biology. Economics: business administration, political economy, management, accounting, marketing. But also humanities such as history, philosophy, geography, psychology, civic education. Or artistic and technical subjects such as engineering, architecture, computer science, or history of art. And let's not forget our special educational and didactic interventions for children and for people with medically recognized learning difficulties. We have specialized teachers for these publics.
Who are the people who work for YouTeach and with whom do you work as partners or professional providers?
YouTeach is staffed by Patrizio Corrado the Founder, Giorgia Rebolini Administrative Director, Luisa Zefiro Commercial Director, myself Acquisition and Development Manager, Gioacchino Poletto Computer Engineer and of course a team of teachers. We are partners of the Department of Education (DECS) of Bellinzona, the Center for the Promotion of Start-ups (SUPSI) of Lugano and the Swiss Agency for Innovation Promotion (Innosuisse) of Lugano. We also work for the sustainable development of Switzerland.
What is your vision for the future of YouTeach and what are your next development projects?
YouTeach wants to be the first Swiss company to manage and coordinate private education globally, for individuals and businesses, offering a fast service, seven days a week, thanks to a platform/site and a mobile application that will allow customers, wherever they are in the world, to book a lesson from the platform and have a teacher available as soon as possible. YouTeach will also offer online lessons in real time and will upload recorded videos for each subject and topic on the platform, where customers will be able to purchase (with a debit/credit or prepaid card) time to watch the video tutorials: for example for a few hours, for a day, for a week, or through monthly or annual subscriptions.
YouTeach is also committed to humanitarian work in developing countries. Our training institute is seeking for an agreement with foundations or organizations to allow people who cannot afford to access this type of learning support. Even in poor or remote areas, online courses can be established by creating the necessary partnerships. No one should be excluded from access to knowledge.
---
From left to right : Bernard Cazaban Head of Acquisition and Development, Luisa Zefiro Commercial Manager, Giorgia Rebolini Administrative Director, Patrizio Corrado Founder