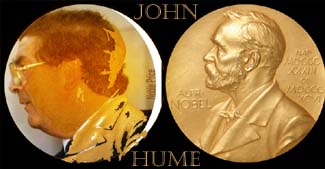 John Hume: Nobel Peace Laureate by Ita Marguet
Laureate of the Nobel Peace Prize on 10 December 1998, John Hume (born 18 January 1937) said … 'I want to see Ireland as an example to men and women everywhere of what can be achieved by living for ideals, rather than fighting for them, and by viewing each and every person as worthy of respect and honour. I want to see an Ireland of partnership where we wage war on want and poverty, where we reach out to the marginalised and dispossessed, where we can build together a future that can be as great as our dreams allow'.
John Hume is regarded as one of the most important figures in the recent political history of Northern Ireland and one of the architects of the Northern Ireland peace process. Founding member of the Social Democratic and Labour Party and co-recipient, with David Trimble, of the 1998 Nobel Peace Prize … for their efforts to find a peaceful solution to the conflict in Northern Ireland … John Hume has received other prestigious awards including the Gandhi Peace Prize and the Martin Luther King Award.
He was recently announced the winner of RTE's Ireland Greatest series for 2010.  A popular and widely followed programme, a poll of amongst 1,000 members of the public asked them to name people who they considered to be the greatest Irish man or woman who has ever lived. John Hume led the final list of five contenders with Mary Robinson, Michael Collins, James Connolly and Bono who had RTE presenters as advocates and who were all profiled during a one-hour documentary programme broadcast.
John Hume Institute and Medal
Established at University College Dublin (UCD) and named in his honour, the John Hume Institute for Global Irish Studies aims to explore a range of thematic areas to connect the Irish in Ireland and the global Diaspora as an active and inter-active Community. The Institute is a member of the Humanities Serving Irish Society consortium headed by the Royal Irish Academy.
Eighty million people around the world identify themselves in some way with Ireland and Irishness. The Institute hosts an Irish Diaspora Forum bringing together academics, politicians, policy makers and opinion formers from around the world who identify themselves in some way with Ireland and Irishness.
A highlight of an event held by the Institute in London in 2009 was the presentation of the inaugural UCD John Hume Medal to honour an individual of Irish ancestry who has made a significant contribution internationally. Its first recipient was Dr. Mary Robinson for her outstanding contribution as President of Ireland and as United Nations High Commissioner for Human Rights, and for her pioneering work on climate change and its effects on international human rights.
Ita Marguet, February 2011
Note:  Acknowledgement is given to sources used in this text. It follows a published text Linking the Diaspora: John Hume Institute and Medal, by Ita Marguet, January 2010.