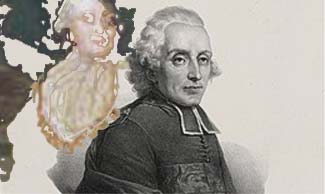 Henry Essex Edgeworth : Confessor of French King Louis XVI
He was born in Edgeworthstown, County Longford, Ireland as the second child in a family of eight, four of whom died in infancy. His father was the third generation Church of Ireland rector of Edgeworthstown who with his family later converted to Roman Catholicism. His mother Martha Ussher is often referred to as a granddaughter of Archbishop Ussher but was in fact from a different branch of the family. They are described in literature as being remarkable and gifted.
Writings about his life with genealogical, biographical and historical records include 'Memoirs of the Abbé Edgeworth; Containing the Narrative of the last hours of Louis XVI (London 1815)'. For convenience he assumed the name of "Edgeworth de Firmont" that was derived from the ancestral patrimony of his family.
Henry Essex Edgeworth (1745-1807)
His forebears were of English descent who had acquired land in Co. Longford during the reign of Queen Elizabeth I and had subsequently been supporters of the Protestant and loyalist interest in Ireland.  As a young boy his father, Rev. Robert Edgeworth, converted to Roman Catholicism, resigned his benefice and emigrated with his family to Toulouse in France where an Irish community, driven by the harsh Penal Laws, had established itself and prospered. The oppressive laws enacted by the Protestant Parliament in Ireland curtailed all civil, religious and economic rights of Catholics in Ireland including expropriation of land. Henry and his brother Ussher attended a Jesuit seminary.  In 1759 after his father's death, he went to Paris to continue his further education and trained for the priesthood studying theology at the Sorbonne. On taking religious Orders, like his father, he assumed the name Edgeworth de Firmont, by which he was universally known in France.
Although he originally studied with a view to becoming a missionary he decided to stay in Paris primarily working for the poor until his health failed, then ministered to the expatriate Irish and English Roman Catholics.  Through past connections of his deceased father and the Archbishop of Paris he became vicar-general of the Diocese of Paris and a friend of the royal family staying with them during the French Revolution.  In 1791 he became confessor to Princess Elizabeth, sister of Louis XVI, and earned the respect even of the 'sans-culottes' by his piety and devotion. Through Madame Elizabeth he was recommended to the king whom he accompanied when Louis' trial was impending; he stayed with him overnight in the Temple Prison and obtained permission to celebrate mass and performed the last rites. He accompanied him to the scaffold at the Place de la Concorde where, as was the practice, recommended the king to allow his hands to be tied with the words … 'Sire, in this new outrage I see only the last resemblance of your Majesty and the God who will be your reward'.
In 1796, his mother had meanwhile died in prison, where his sister was also confined.  After encountering many dangers while still in Paris, he sought refuge in Bayeaux where he remained concealed until managing to arrange his escape in civil garb to England, then to Scotland, to carry Elizabeth's last message to her brother, the future King Charles X, whom he traced to Holyrood Palace in Edinburgh. Henry's brother who resided with relatives near Edgeworthstown was keen for him to return to Ireland. Instead, Henry travelled with some papers to the place of exile of the future Louis XVIII at Blankenburg in Brunswick who induced him to accompany him to Mittau in Russia. He was appointed chaplain to Louis XVIII and travelled with the family to Russia in 1798.
He fell victim to a virulent fever caught while attending sick French soldiers during Napoleon's Russian campaign and died in 1807 while being cared for at the Palace of Jelgava. He was buried in the cemetery of Mittau that is now known as Jelgava in Latvia.  A lengthy epitaph was written in Latin by Louis XVIII, a copy of which with a letter of condolence was sent under Louis' orders addressed to Mr. Ussher Edgeworth, in Ireland.
On 1 June 2006 The Irish Times published a letter requesting whether something could be done about the grave of Henry Essex Edgeworth, last father confessor to King Louis XVI, who attended the king. Baedeker's Russia (1914) describes Edgeworth's grave as a neglected supulchral chapel in Jelgava, in present-day Latvia. The letter adds that an excellent biography of Edgeworth was written by M V Woodgate in 1946.*
Ita Marguet, July 2020
Note : Acknowledgement is given to encyclopaedic and biographical sources used in preparation of this text. *Documents record the heavy destruction during World War II including the Palace of Jelgava that was restored.