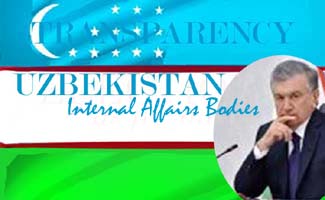 Uzbekistan adopted additional measures to ensure transparency of internal affairs bodies
On May 22, Cabinet of Minister of Uzbekistan adopted the decree that determines additional measures to ensure openness and transparency of internal affairs bodies applied to execution of imprisonment sentences.
The decree, adopted within the law "On openness of activities of the government bodies and governance", defines the list of information subject to declassification.
Particularly, the list foresees the disclosure of information on the number of persons placed to penal institutions and pre-trial detention centers, the number and location of relevant institutions and more. This is being done to ensure transparency of internal affairs bodies.
Ministry of Internal Affairs in collaboration with interested ministries and agencies is assigned to align adopted normative legal acts in accordance with the decree of the government. 
In 2020, more than 3,000 investment projects are planned to be implemented in Uzbekistan
The investment program for 2020 includes more than 3 thousand projects, the realization of which envisages investment of 235 trillion soums, including foreign direct investment of 7 billion dollars. This was discussed during the videoconference chaired by the President of Uzbekistan Shavkat Mirziyoyev on May 26.
With the pandemic-related coronavirus slowdown in the first half of the year, the priority is given to projects that can give results in short term, ultimately, generate jobs and economic growth.
Due to the situation, 450 billion soums out of the Investment program have been diverted from the construction projects to other, more urgent purposes. In particular, 150 billion soums has been transferred to the development of 40,000 hectares of land and the creation of 80,000 permanent jobs.
Heads of industries and region are assigned to revisit budget-funded investment projects and optimize costs.
International standards will be gradually introduced to the project documentation development process to establish effective investment cooperation in Uzbekistan. From next year, all processes – starting from project development to operation of large objects from the budget – will be carried out in accordance with international standards; restrictions on the allocation of funds for design will be lifted.
This year, 34% of foreign direct investment came to oil and gas, mining and metallurgy sectors, 53% to regional projects.
Uzbekistan is interested in further attracting investments to information technology, jewelry, chemical and electrical industries, higher education and health care.
Preferences granted only to foreign investors will be extended to local private investors. For example, if the latter starts a project worth more than $25 million, external communications and engineering networks will be built at the expense of the budget.
Small income-generating projects and public-private partnership projects will also receive special attention. 
Heads of regions, ministries and agencies will report on presidential acts on a monthly basis 
Over the past three months, Uzbekistan has adopted 16 presidential decrees and decisions aimed at mitigating the impact of the pandemic on the economy, supporting entrepreneurs and providing social protection for citizens.
The implementation of these decisions will be strengthened. This was discussed during the videoconference chaired by President Shavkat Mirziyoyev on May 26.
In particular, both Chambers of Oliy Majlis, together with the local councils of people's deputies are recommended to monitor the implementation of presidential decisions and instructions adopted within country's fight against the pandemic.
The khokims of districts, cities and district along with ministers are assigned to hold monthly briefings on the implementation of the presidential acts; report to the media, representatives of Parliament and the general public.
Uzbekistan introduced gradual ease of quarantine restrictions on early May. As a result, more than 19,000 (91%) industrial, 9,000 (76%) construction, 51,000 (52%) service and 45,000 (44%) commercial enterprises resume their work.
This led to tax and customs revenues increase in May by 230 billion soums compared to the same period of last month, and sales of construction materials on the commodity exchange increased by 20%.
The volume of loans issued by commercial banks increased by 13% compared to the corresponding period last month.
The President of Uzbekistan stressed the need to continue targeted efforts to restore economic activity. Businesses, however, will have to adhere to strict quarantine requirement aimed at preventing the spread of COVID-19.
Thus, a number of actions will be taken. Particularly, quarantine measures will be strengthened in the territories where the epidemiological situation has worsened, number tests in "red" and "yellow" zones per day will be increased, increasing the number of analyses performed per day in "red" and "yellow" zones. Finally, control testing will be held in markets, banks and public places.