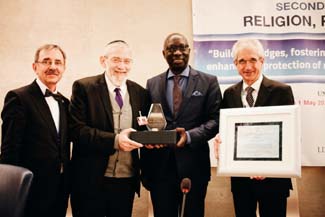 In Geneva, Rabbi Michael Melchior, Chief Rabbi of Norway receives the Jean Nussbaum & Eleanor Roosevelt Award of Excellence – Ambassador for Liberty and Peace
In Geneva, Switzerland, on April 29th, 2019, the Danish/Norwegian Rabbi Michael Melchior, founder and president of Mosaica – Religion, Society and State, was honored with the Jean Nussbaum and Eleanor Roosevelt International Award of Excellence – Ambassador for Liberty and Peace.
A descendant of seven generations of rabbis in Denmark, Rabbi Melchior was born in Copenhagen, Denmark, in 1954. His grandfather, Marcus Melchior, helped organize the escape of over 7,200 Danish Jews during the Nazi occupation of Denmark, and served as the country's chief rabbi until his death in 1969. Michael was ordained an Orthodox Rabbi in 1980 and soon afterwards became Chief Rabbi of Norway. As such, he was a familiar face on television and was often in the news. In 1986, he emigrated to Israel and settled down with his family in Jerusalem, while still holding the honorary title of Chief Rabbi of Norway.
The award was given at the Global Summit on Religion, Peace and Security in Geneva. The two-day Summit was co-organized by the International Association for the Defense of Religious Liberty (AIDLR) and the United Nations Office on Genocide Prevention and the Responsibility to Protect (OGPROP).
The Ambassador for Liberty and Peace Award recognizes the work of individuals and organizations that have played or are playing an important role in promoting peace and human rights, in particular freedom of religion and belief, as well as preventing atrocities and crimes of violent extremism based on the abuse of religion. It is given annually to leading international figures for their leadership and dedication to promoting peace, religious liberty and freedom of conscience for all.
This year's award is shared by Rabbi Melchior and Sheikh Abdallah Bin Bayyah. Rabbi Melchior received it in recognition of the major role he has played in creating and fostering relationships with religious leaders throughout the Middle East and the effect that his work has had in mitigating tensions and resolving crises in the region. Sheikh Bin Bayyah, one of the most courageous Islamic law arbitrators in the Islamic world, received the award in recognition of his leadership in the religious struggle against Al Qaeda and ISIS. He is the president of the Forum for Promoting Peace, and is the leader of 460 leading Islamic scholars, thinkers and Sheikhs from all around the world.