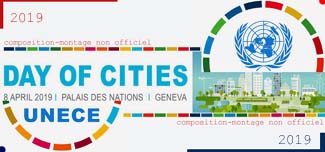 Mayors call for greater recognition by the United Nations of the key role of local governments in achieving the SDGs
Cities play an essential role in addressing some of today's major sustainability challenges, whether it comes to reducing the impact of climate change, giving people a home, strengthening resilience to disasters or reducing pollution. Mayors meeting today at the United Nations in Geneva for the Day of Cities agreed that cities are essential to achieving the Sustainable Development Goals (SDGs), as action takes place at the local level and city governments are the closest to citizens, with the most immediate and visible impact on their lives.
Cities are leading engines of economic growth, generating more than 80% of global GDP. The UNECE region is among the most highly urbanized regions in the world, with urban areas concentrating over 75% of the population in Europe, 80% in North America, and close to 50% in Central Asia.
UNECE organized the Day of Cities to discuss with Mayors and Deputy Mayors from cities that have taken sustainability seriously how to make urban areas smarter and more sustainable, and to learn from their experience of how digitalization and technologies can contribute to this transition. The event gathered over 50 Mayors from 33 countries of the UNECE region, and over 400 participants.
Mayors agreed that, if they are to achieve resilient, low-emission, circular, nature-based equal and healthy cities, then more opportunities should be offered by the international community like the Day of Cities. The also emphasized that further strengthening the support of UNECE to the work of local authorities could help to address the main challenges of SDGs implementation in urban areas.
For instance, Mayors play a central role in helping cities to reduce emissions and make urban environments carbon neutral, and have to take action despite often limited budgets. Mayors are already effectively implementing climate solutions and increasing cities' resilience to disasters. In this regard, Mayors concurred that reducing the number of cars in urban areas is imperative, as is increasing green spaces and green infrastructure, adding more pedestrian areas, promoting public transport and shared mobility, and enhancing urban forestry.
The importance of introducing safe and inclusive solutions for food security and to reduce food waste, as well as increasing the share of organic food, was also highlighted. Waste management as well the use of sustainable local materials including wood for construction and reduction in the use of plastics was highlighted as a priority, including by engaging local skills and knowledge, improving the quality of construction, focusing on the building skin, making insulation more effective, and recovering energy.
Increasing public spaces was considered key in enhancing the quality of life in cities and the interaction amongst citizens, together with affordable housing. In this regard, a shift to new housing management solutions are needed, such as locally-based housing associations, a more accessible housing market, the use of incentives for affordable housing, increasing the amount of affordable housing through more rental properties and lowering taxes for low-income residents.
"I am pleased to have so many committed Mayors with us in this event" said Ms. Olga Algayerova, Executive Secretary of UNECE. "We are hearing their message loud and clear: the international community, and the United Nations in particular, need to give mayors and local governments more space to discuss practical action and real solutions to make the SDGs a reality. There is no sustainable future without their full engagement, also at the international level" she concluded.