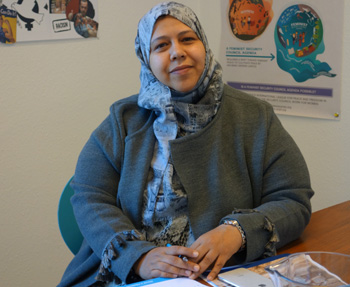 Listen to Us, We – the Yemeni Women !
Interview with Muna Luqman, Humanitarian Strategic Consultant in Yemen and Chairman of Food4Humanity and Co -Founder Women Solidarity Network
Muna Luqman represents the new generation of Yemeni women, engaged and dynamic, who really want to make a difference. Outspoken, determined and with a pleasant personality, we met this young woman on a sunny December day in Geneva. She recounts saddening, but inspiring insights.
Q: What is the reason you are here today ?
I'm here to attend the pre-sessions of the Universal Periodical Review for Yemen representing a coalition of six NGOs led by local women. The event is organized by the Women's International League for Peace and Freedom which are hosting us. We have two women representing Yemen, Ms. Nesmah Mansoor, and myself. My intervention covers humanitarian needs, the lack of services, arms proliferation, explosive weapons and finally the use of child soldiers.
Ms. Nesmah Mansoor will deal with sexual violence and women's participation in political and public life.
Q: We hear alarming and sad information about Yemen. Can you tell us how it really is ?
Our situation is really devastating, indescribably so. The whole State has collapsed; the infrastructure, health, and water and sanitation, education, security and economy, the social welfare schemes – nothing is working ! People have not had salaries for more than two years, so that's one of the main drivers of the famine in Yemen.
The UN says that 22 million people are on the brink of starvation, but surely, the Yemenis are already in a state of famine.  We a have political situation now that is giving some parts hope with some confidence building measures in Sweden that have had some significant progress led by the UN Special envoy to Yemen and the international community.
We are very happy with the pressure that is being brought to bear on the two parties by the international community, however, we also need much more work on the ground and we need more humanitarian aid.
People on the ground need peace and a ceasefire so that the aid can come in. The Houthi rebels still have the city of Taiz under siege, a situation that has gone on for three years. People are dying, and live in an unbearable condition. There is an urgent need for medication. In Hodeida, now there is a cease-fire, but the conflict still goes on. Fighting is still taking place around the port. People are suffering, and do not have safe places to go. IDPs are increasing. Hundreds of thousands are facing a cold winter without protection, shelter, food, or water… The conflict in many areas are still going on. So, we need a proper ceasefire, we need aid, and we need more international pressure to be applied on both parties.
You see, the Houthis are planting land mines everywhere. We need them to get rid of their stockpiles, and to hand over to the authorities their arms and the landmine maps so that we can have some safe areas. Today nobody is safe anywhere, and obviously we also need airstrikes to end.
Currently, there has been a ceasefire, but we need a sustainable peace and for aid organizations to come in. Right now, they are just giving aid here and there, and it is not efficient. People are dying. Most of the hospitals have been shut down. It is a terribly senseless war from which everybody is suffering. With the war, everything has deteriorated in Yemen. Sexual violence against the women is up 70 percent. Starvation is used as a tool of war as food and supplies are being dominated by the houthi rebel group and distribution is not balanced. We need action, now!
Q: Do you feel sometimes, that people are heartless and care little about what is happening in your country ?
Actually, no! But I do think that the international community is allowing a biased story to come out. We should all work together and put more pressure on the international media to give the whole story of Yemen. Today, there is only one side of the story that people hear about and they get a biased and unrealistic impression.
If the Arab-led, coalition lifted their hands today, which we hope they will do, the pain, the agony, and the landmines victims will still continue because we have militias on the ground. These militias do not believe in peace. They have failed peace many times. Therefore, the issue on the ground is very important and they have to be held accountable.
In order to help us, we need the international media to focus on what is really going on in Yemen. We have Al-Qaida, Al Houthis and other armed groups and different militias who are armed now and use their weapons. Schools have been turned into military camps.
Even civil society work now is tightened and constrained.
Today, in Sanaa you cannot do anything without the authorization of the Houthi militia. We have so many issues that we need the international media to focus upon. It is not enough to say just that the Saudi led coalition is most of the issue. We need to focus on the civilians being targeted by the snipers, landmines, kidnapping, enforced disappearance – all of this happens because of the militias on the ground.
It happened even before the Arab Coalition intervened, It started, in September in 2014, when the houthis ignited the war by armed force against the will of Yemenis who had reached a historic point peace through the NDC (National Dialogue Committee)
Q: I remember that even before there used to be kidnapping problems.
Yes, we have always had kidnapping of foreigners.  There were different causes, but think the aim was mainly to use this to pressure the government to make some infrastructure project in their regions. It was never as offensive as it is now. Now we have cases of people being tortured. A few days ago, The Associated Press released a report on torture in Yemen, and how administrated kidnapping is carried out Most of the cases are from the Houthi militias.
The Houthi armed group in Yemen has frequently taken hostages and committed other serious abuses against people in their custody, Human Rights Watch have reported that Houthi officials should stop taking hostages, free everyone arbitrarily detained, end torture and enforced disappearances, and punish those responsible for abuses.
There are also cases of detainees from government backed forces have
we have it from both sides. Unfortunately, the Houthi militia is not at all willing to cooperate with the international community to really bring about peace in Yemen, they are just trying to brush up their image.
Q; How is to be a woman in this context ?
Well, it goes beyond saying that we feel unsafe. Even being outside the country, we feel unsafe because they are monitoring us, our Facebook pages, our brothers and sisters. Our families are in Yemen. Many of my friends have been threatened and feel very scared because of messages posted on social media. Therefore, it is very difficult.
For me personally, outside Yemen, at least I have the space to speak about the situation more, and to draw attention to the suffering of the Yemeni people. As you are aware, I am involved in humanitarian field. I'm trying to do my best to draw attention to the fact that the famine and other issues are driven by other forces…In the international media we only hear about the famine, but it is unfortunate that it had to take all these years for the international media to speak about it. We have had this famine since 2015, and even before that date. I have many documented cases from that time of malnutrition. Of course, it is amplified because of the conflict, but why did they not address the drivers of this conflict earlier?
Now we have checkpoints and the militias confiscate the aid that comes in. So, the drivers of this famine are many. One is corruption within the distribution channel of humanitarian organizations, and the distribution is not effective or carried out in a balanced way to the cities. So, we have lots of different issues. It is truly important if the international media could also focus on the causes of the conflict, how it started and how it impacts on people. This is the only way we will be able to reach peace by analyzing the drivers of the conflict and from that we can construct a roadmap to go on. Just talking about one side of the story is important but it is not enough.
Q. We are at the end of the year 2018. What are your hopes for 2019 ?
We have lost track of time. Time in Yemen is measured by the suffering of the people. It is important right now to alleviate the suffering of millions of people. In 2019 I really hope to see more focus on the peace process. The past year was a military process in Yemen, and I hope that the military forces involved in this, will engage in the political process and that we will see more of women in the peace process. In 2019, I hope for the participation of more women.
Women on the ground are doing great work! They are involved in the local conflict peace building initiatives. I, myself have been involved in resolving a water dispute in Yemen, and fundraised to restore a water station that now serves for 10,000 beneficiaries, Food4Humanity team of volunteers were able to work to resolve this conflict. Therefore, the women do not need to walk for hours to get water. The girls can study or do something else, and at the same time, they are safer because the water is so much closer.
Being also the co-founder of the Women Solidarity Network. which is the largest network in Yemen. We now have nearly 500 members. All of them are pushing for greater participation of women. We are all working effectively to end the naval blockade and economic blockade. We are trying to restore access to humanitarian aid in Yemen, and other issues. We have been in contact with the UN Special Envoy. Martin Griffiths, diplomats from different countries and other important players. We are trying to bring a gender lens to this peace process. We also need the international community to help us pressure all the parties to get more women in the delegations. We are now pushing for an independent delegation of women to be at the negotiation table in the peace process. Right now, we only have one woman there. We are, of course, happy for that, but it should be 30 per cent and that is part of the NDC commitment, and all the parties involved agreed to comply and the international community supported it.
For now, it is OK because it's the start, but we should bear in mind that the women are those bearing most of the burden of the war.
The women are suffering more, and the peace process should start from the bottom up, and not the other way round, in order to make it sustainable. It is very fragile. It will only be sustainable once we have a true contribution from women. Therefore, I want to see more women participating in the political process, taking part in the delegations.
We have set up a criteria through Peace Track Initiative and the Women Solidarity Network, which is  a model for an independent women's delegation to participate. We want to be part of the process not only to be there but because we have and are still working on the ground and Yemen has competent women experts in all fields even security experts and economists.
Another important issue is that despite all the work done by women, they do not receive any funding, and this is something I hope to see in 2019. Women's organizations need funding to expand their work. This should be a priority international community to work with youth and women led initiatives and CSO's at the grassroots levels because they have the knowledge and access.
Geneva, 13 Dec 2018
MF