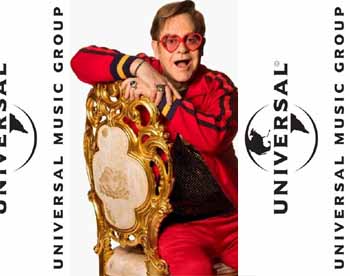 ELTON JOHN AND UNIVERSAL MUSIC GROUP STRIKE GLOBAL PARTNERSHIP ACROSS RECORDED MUSIC, MUSIC PUBLISHING, MERCHANDISE, BRAND MANAGEMENT AND LICENSING RIGHTS
All of Elton John's new music for the rest of his recording career will be released through Universal Music Group
London and Santa Monica, September 21, 2018 – Rocket Entertainment and Universal Music Group (UMG), the world leader in music-based entertainment, today announced a significant new agreement to provide Elton John, one of music's most iconic artists and the most successful male solo artist in US Billboard chart history, the industry's best resources and expertise across recorded music, music publishing and licensing rights. This partnership not only means that UMG represents the entirety of Elton John's legendary creative output throughout his extraordinary five-decade career, but also will see UMG's labels globally release all of Elton John's new music for the rest of his career going forward.
The multi-faceted agreement marks the beginning of a new era of expanded collaboration between Elton John and UMG and significantly expands their global business partnership. The long-term commitment also includes the publishing rights to his iconic song writing catalogue to be administrated by Universal Music Publishing Group long into the future. Bravado, UMG's brand-management and merchandise company, will work closely with Rocket to expand and develop global merchandising, branding and retail licensing opportunities around Elton's Farewell Yellow Brick Road world tour and catalogue.
In making the announcement Elton John said: "In UMG we've got the perfect partners to support all aspects of my creative endeavours. Lucian, Jody, David and the UMG family share the values that we hold dear – nurturing artistry, restless creativity and innovation. I'm proud and delighted to have them stand alongside me as I embark on the next phase of my career"
Working with David Furnish, CEO of Rocket Entertainment, UMG will leverage its unique combination of global reach, creative and commercial expertise, and renowned marketing and promotional support to ensure Elton John's current releases, alongside his rich songwriting and recorded music catalogues, are continually introduced to new generations of fans, and that his music's cultural impact expands through innovative campaigns in countries around the world.
David Furnish, CEO of Rocket Entertainment, said: "During the time I've been CEO of Rocket our relationship with Universal has gone from strength to strength. Sir Lucian Grainge, Jody Gerson, David Joseph and their teams' vision to bring Elton into the digital / streaming age and make his catalogue relevant to a younger generation is in perfect tandem with everything we strive to do day in, day out at Rocket. Elton's hunger and desire to push himself creatively and collaborate with the best, most exciting creatives in the world is as great as ever, and Universal fully share our vision to keep Elton at the forefront of popular culture."
Sir Lucian Grainge, Chairman & CEO, Universal Music Group said: "Elton John is a creative cornerstone of UMG, which has been his home since his earliest days at MCA Records. In parallel with Elton's stratospheric rise as an artist, UMG has evolved from a 'label' and 'publisher' into a broad-based global media and entertainment company that is positioned to work at a far higher level and with greater impact with an artist of Elton's caliber. As he embarks on his monumental Farewell Yellow Brick Road Tour, we are excited for our entire global organization to stand alongside him, working hand in hand with David and his team at Rocket to ensure that his music continues to inspire and entertain audiences around the world for generations to come."
Jody Gerson, UMPG's Chairman & CEO, said: "Elton is a musical genius and simply one of the most talented songwriters in history. As we proudly continue our partnership together, UMPG remains deeply committed to growing the legacy of his legendary catalog and supporting future projects. As the influence of his music thrives through generations, Elton continues to be a timeless source of inspiration for songwriters and fans alike."
David Joseph, Chairman & CEO, Universal Music UK, said: "We adore working with Elton, naturally because he's one of the greatest artists in the world with songs which connect with every generation, but also for his unrivalled support and championing of new artists. Since David became CEO of Rocket, he's brought a new energy and perspective which has made our partnership more ambitious, innovative and collaborative than it has ever been."
Mat Vlasic, CEO of Bravado, said: "Bravado sits at the crossroads of music and fashion and we are constantly pushing the limits of what we can do for our artists. It's an honor to work with Elton- a legendary icon who continues to brilliantly weave music and fashion together while constantly elevating his aesthetic to new heights. His influence on fashion has not only inspired designers around the world, including our own, but he has empowered generations of fans to take license with their own freedom of expression, something that I have always admired and greatly appreciated. We are excited to create something that celebrates his legacy and that his fans will treasure for years to come."
Since becoming CEO of Rocket Entertainment in 2015, Furnish has fostered an ever-closer working partnership with UMG. Together, they have focused on growing Elton John's presence on streaming services and social media platforms to support a broader strategy in touring, branding and licensing. A strategically planned series of initiatives across the fields of recorded and live music, fashion, film and video have ensured that not only does Elton's oeuvre continue to find new fans, but his continuous creative output has remained exciting and relevant across the generations.
Some of the world's biggest and most exciting artists from a wide-range of genres joined together to pay homage to cover versions of songs written by Elton John and Bernie Taupin, resulting in two albums released in April: Revamp (Virgin EMI/Island Records) and the country music companion Restoration (MCA Nashville). Miley Cyrus to The Killers, Little Big Town to Maren Morris, Q-Tip to Lady Gaga, Chris Stapleton to Kacey Musgraves, Ed Sheeran to Queens Of The Stone Age contributed recordings to the albums. Revamp reached No. 2 in the U.K. Compilation Charts, educating a new generation of fans to the influence and inspiration that Elton has had on various genres leading lights.
Also, in April, CBS aired the concert special "Elton John: I'm Still Standing — A GRAMMY Salute," featuring performances from Elton John and artists including Alessia Cara, Lady Gaga, Shawn Mendes and Sam Smith covering some of his most-loved hit songs. Elton John was named the top-performing solo male artist in the 60-year history of the Billboard Hot 100, with 67 chart entries between 1970 and 2000, including nine No. 1 songs and 27 than landed in the top 10.
November 2017 saw the release of Diamonds, a career-spanning Greatest Hits set. Timed to coincide with Elton's 70th birthday, as well as the anniversary of his 50th year working with his songwriting partner Bernie Taupin, a sustained period of celebratory activity surrounded the release, including an ITV1 90-minute prime-time special and a Radio 2 special in the U.K., where the album was certified twice Gold and reached the Top 5 of the U.K. Album Charts upon release.
This year has seen the live side of Elton John's business pushed to ever greater heights. The announcement of the Farewell Yellow Brick Road tour was a VR extravaganza that transported attending media- and fans around the world watching on YouTube – through the defining moments of Elton's illustrious performance career. The tour, which kicked off earlier this month in Allentown, Pennsylvania marks the Elton John's goodbye to the road, drawing the curtain on a career that has broken records and redefined the parameters of live music. The U.S. dates became the fast selling American Express presale of all time, selling 450,000 tickets on first day, and 76 of the dates sold out instantly. The tour will take in over 300 shows over three years, and it's projected to see Elton perform in front of 6 million to 7 million people.
Elton continues to impact the world of fashion and will work with Bravado to create an inspired line of merchandise for his Farewell Yellow Brick Road tour. Bravado will oversee worldwide tour and retail merchandise, brand partnerships, licensing and direct-to-consumer sales along with activations planned in cities throughout the tour. Elton's iconic presence in fashion and design was felt last year as Gucci unveiled their Spring Summer 2018 collection. Designed byAlessandro Michele and inspired by Elton's inimitable style, the collection referenced original items taken from his archives. Gucci has also designed Elton's wardrobe for the Farewell Yellow Brick Road tour, threading the various style elements that make up the superstar's DNA.
Elton also appeared as himself in a critically lauded, hilariously tongue-in-cheek role in Kingsman: The Golden Circle, and his songs soundtrack Sherlock Gnomes. Staying within the visual medium, last year also saw Elton and Bernie launch The Cut, a project allowing undiscovered creative talent from all over the world the chance to create the official music videos for some of their most iconic songs: "Rocket Man," "Tiny Dancer" and "Bennie And The Jets," each winning video attracting millions upon millions of views. The Cut, which was supported by YouTube, helped build a dialogue with Elton's younger fanbase and exposed Elton's catalogue to a creative, youth-orientated audience, allowing new and emerging talent to produce the first-ever official videos for some of Elton's classic tracks from before the commercial music video-era.
Elton's regular Beats 1 Rocket Hour show on Apple Music also reinforces his unsurpassed reputation as a connoisseur of pop and a supporter of new and emerging talent. Having recently transmitted it's 150th episode, Elton has now presented more shows for Beats 1 than any of the other regular presenters.
As Elton's globally anticipated Farewell Yellow Brick Road tour gets underway in the U.S., the next phase of the icon's unparalleled career will continue to push the boundaries and define the meaning of the term global Superstar. With the path of his future recording career now set in stone with UMG, and under Rocket Entertainment's stewardship, Elton John defines pop culture in the 21st Century.