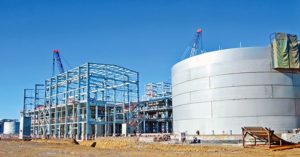 On January 30, 2017 during his working trip to Ahal Region, the President of Turkmenistan Gurbanguly Berdimuhamedov visited to Ovadandepe the town of near Ashgabat where construction of the plant on production of gasoline from natural gas being conducted. Joint efforts of the "Turkmengaz" State Concern and Consortium established by the Japanese company Kawasaki and the Turkish Ronesans Holding build the plant. Reported by the National television Turkmenistan.
The construction of this complex had begun in August 2014, and the launch foreseen in 2018. The Complex will be equipped with the latest technologies by well-known Danish company Haldor Topsoe. It will annually process 1.785 billion cubic meters of natural gas and to produce 600 thousand tons of gasoline of the A-92 brand on environmental standard of Euro-5, 12 thousand tons of diesel fuel and the 115 thousand tons of the liquefied gas a year. The total cost of the project is 1.7 billion US dollars. This project was being implemented through the investments of the Japanese Bank of International Cooperation and the "Turkmengaz" State Concern.
At a meeting with the administration of oil and gas industry of the country, the President of Turkmenistan instructed to provide opportunities for production of gasoline of the A-95 brand when developing the project of the second phase of a complex. He also disposed to accelerate construction of a rail branch line for transportation of production of  the enterprise, having noted that it is the most appropriate delivery option, including exporting.
---